Looks like not that long ago Bitalium got rid of bitcoin withdrawals.

According to their announcement sent out to the affiliate investors this past week, ROI withdrawals can only be made in useless Bitalium tokens.
I did a review of Bitalium May 27th, 2020.
At the time it was promoting up to $30,000 in bitcoin on a promise of a daily return for 270 days.
Not too long after it's launch, Bitalium launched it's Bitalium Token which is called BLM.
I guess they launched this to prep for a future exit scam.
Just so you know BLM is an ERC-20 token that costs Bitalium next to nothing to produce on demand.
Plus because the BLM token isn't publicly traded, it's useless outside the company.
Just a few months after their Bitalium Token launch, they claimed that on October 12th there was a "security incident".
According to Bitalium, they said the following but didn't touch base on WHAT the incident was exactly.
We would like to inform you, that we are undergoing a security audit to prevent such issues in the future.

The audit consists of 2 stages:

Reviewing the source code of our platform, which finished today morning and showed no issues. We would like to ensure that our platform is secure by design.
Reviewing the security practices of our employees. This phase will be followed with extended training about phishing practices and other types of vulnerabilities and how to prevent them.

We would like to inform you that until the security audit is finished, you are free to make withdrawals in BLM token.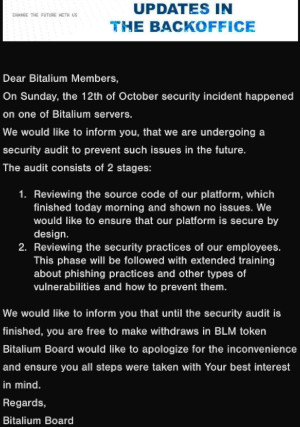 Basically they are saying we can't pay you in legit cryptocurrency, but take our useless BLM token instead…
As for my original Bitalium review, this is what the public exchange exit-scam will look like;
They do talk about how Bitalium Token is going to go on some exchanges, but it will be the dodgy ones.

What will happen with that is they will launch this Bitalium token and the value will sky rocket, however, once the top investors sell off their tokens the value will crash big time.

This means majority of the people will be stuck with useless tokens that can't do anything.

Now the fake actor(s) and anonymous admin(s) will go start another scam and repeat the process.
As of right now Bitalium hasn't given any time frame for the investors when it comes to their security audit.
Also, I am not sure they will actually go public or not…
Maybe they will…
Or maybe they will do a runner…
The CEO Samuel Walch, who doesn't exist outside the company, was still doing corporate webinars as of October 6th.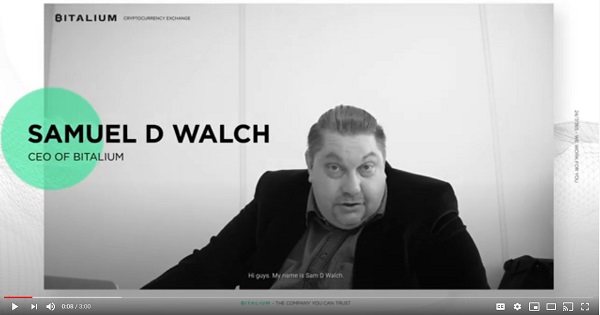 Now depending on the investors backlash on this terrible news about the withdrawals, they might get enabled about but for how long I am not sure.
End of the day once a company flatlines, it's a sign they can't keep up with the return on investment depend.
Reason for that is simple…
Not enough new investments pay off existing members.
In my review, I did call it a ponzi scheme and that was for a good reason.
According to a birdy:
The real owners are Dmitry Velichko and Vladimir Piskun. Both are Ukrainian individuals.

Dmitry has been running all the corporate webinars at the beginning since the so called CEO Sam Walsh has no clue.

Vladimir has rallied all the international leaders using his wife as an intermediate since he doesn't speak English.
To be honest, I can't confirm any of this…
So take it with a grain of salt for now…
Anyway that's it for the news!

Now before you go…
If you want to learn how you can take ANY business and scale it to your dreams and goals?
Partner up with me by clicking the banner below: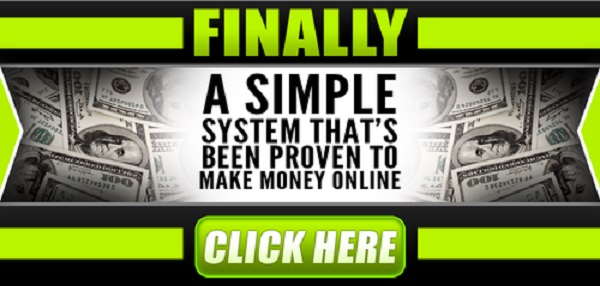 We will show you EXACTLY how to build a business online and customize a plan just for you.
We will help you choose a nice, setup your online business and offers that you can promote.
You can even use a network marketing company if you wish to the sky is the limit.
On top of that you will get ONE on ONE mentoring to make sure you are doing things right.
Follow me on Social media below:
Subscribe To My YouTube Channel Here.
See you at the top,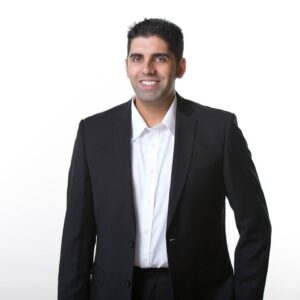 -Jesse Singh
P.S.  If you are tired of failing ANY business, click here and check this out to take your game to the next level.