Welcome to my Crypto Mining Biz Review!
There has been some buzz about this company lately and I decided to take a look to see what it was all about.
Chances are someone approached you about the business opportunity and you landed here to make sure it's legit.
The good news is I am going to walk you through the company, products and compensation plan so you can make the right decision to join or not…
Just PAY CLOSE attention and read this to the end…
Crypto Mining Biz Review (Company)

Crypto-Mining.Biz has no information on who runs or owns the company.
I did check out the Crypto Mining Biz website "crypto-mining.biz" and found out it was registered on February 18th, 2020.
Domain was registered to "Crypto Mining LTD" and has an incomplete address in London UK.
There is a UK address on Crypto-Mining.Biz website but belongs to I-Support Business which is a virtual office service provider.
They do have a UK incorporation listed on their website which does corresponds with Crypto Mining LTD.
Company was incorporated February 19th, 2020.
Just so you know UK incorporation can be purchased for cheap and anyone can get them…
Morgan Finch is the CEO of the company and apparently:
worked with numerous brands, from Fortune 500 companies to reputable startups including Google, Microsoft, SONY, NFL, NYU, P&G, Fleet Bank and NASA.
Also:
has columns in Forbes, Entrepreneur, The New York Times, and American Express.

He has made numerous media appearances, from Bloomberg and Reuters to ABC News and CNN.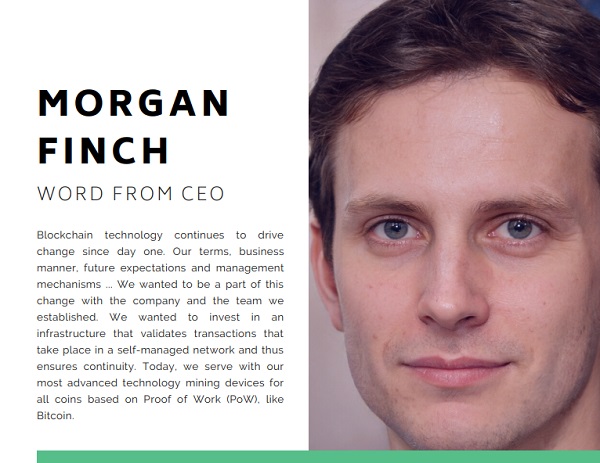 You can check for yourself but this information doesn't exist anywhere…
Looks like Morgan Finch only exists in this company but no where else…
Crypto-Mining.Biz Products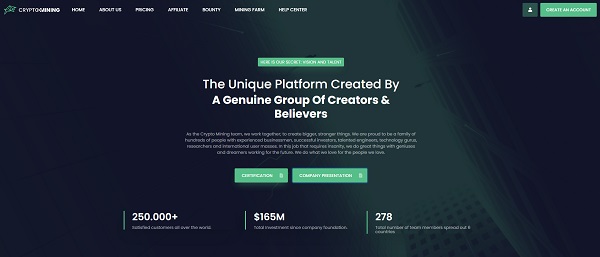 Crypto Mining Biz has no retail products or services but you can purchase the actual affiliate membership.
You can also invest in the company and start earning a return…
Crypto Mining Compensation Plan
Crypto Mining Biz affilaite invest funds into the company on a promise they will get a 48 month ROI paid every day.
Bitcoin
Starter – $70
Advanced – $980
Superior – $5250
Ethereum
Starter – $102
Advanced – $1037
Superior – $5015
Litecoin
Starter – $108
Advanced – $1020
Superior – $5004
Dash
Starter – $95
Advanced – $1045
Superior – $5035
Dogecoin
Starter – $120
Advanced – $1050
Superior – $5550
ZCash
Starter – $128
Advanced – $1020
Superior – $5100
Referral Commissions
Crypto Mining pays 5% referral commissions on the funds invested by your personally sponsored affiliates.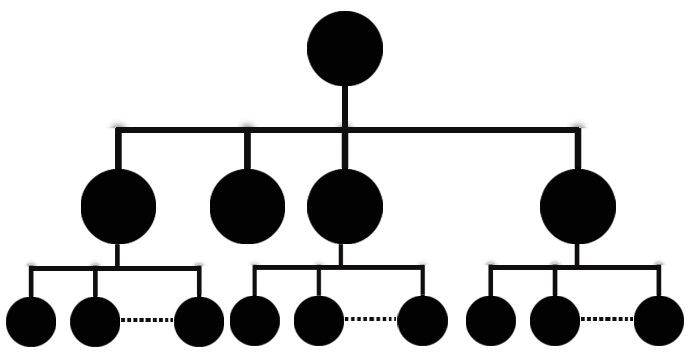 This is paid through a unilevel compensation plan which is capped at three levels deep.
10% on level 1 (personally sponsored affiliates)
4% on level 2
2% on level 3
Note that Crypto Mining Biz does not have information on Promoter qualification.
Cost To Join Crypto Mining Biz
Crypto Mining Biz affiliate membership is free.
If you want to get paid a daily return you must invest at least $70 to $5550 into the company.
Unlike all the other Crypto Mining Biz reviews out there I am going to keep it real with you…
Final Verdict
Crypto Mining Biz apparently produces all it's external revenue through their mining facilities.
Operating in 6 countries, we have the latest technology infrastructures.

Facilities are sensitive to environment and social life, taking the advantage of government policy, weather conditions and cost advantages.
On top of that they have filed over 120 patent applications.
We invest a major portion of our revenue on blockchain and crypto money research and has been the most patent application institution in the last 1 year.
You know the saying "Talk is cheap".
Well it completely applies here because they have no proof of ANY of that.
Heck they don't have any proof of ANY external revenue coming into the company.
Only thing income I see coming into the company is new investments paying off existing affiliates.
Because of that Crypto-Mining.Biz is operating as a ponzi scheme.[1]
I personally can't recommend this company where the ownership is fake and selling you on something that doesn't exist.
If you want to learn how you can take ANY business and scale it to your dreams and goals?
Partner up with me by clicking the banner below: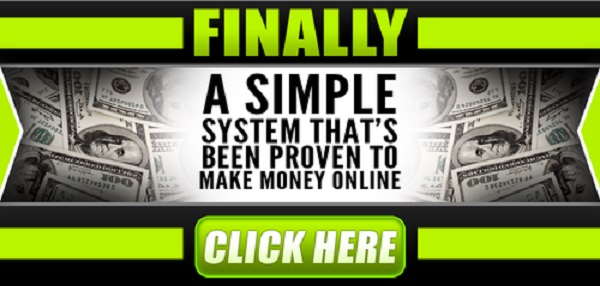 We will show you EXACTLY how to build a business online and customize a plan just for you.
We will help you choose a nice, setup your online business and offers that you can promote.
You can even use a network marketing company if you wish to the sky is the limit.
On top of that you will get ONE on ONE mentoring to make sure you are doing things right.
I hope you enjoyed my Crypto Mining Biz review and if you have ANY questions feel free to ask in the comments below and I will get back to you as soon as I can.
Follow me on Social media below:
Subscribe To My YouTube Channel Here.
See you at the top,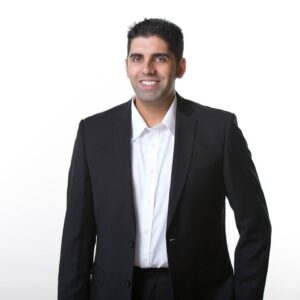 -Jesse Singh
P.S.  If you are tired of failing ANY business, click here and check this out to take your game to the next level.