In the new Mining City webinar CEO Gregory Rogowski claimed the company finally got their license with the Philippine SEC.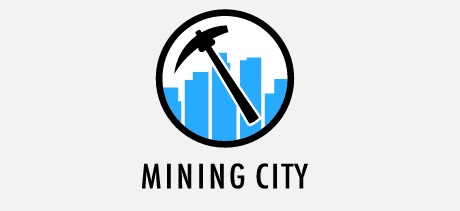 Even after the webinar aired, the Philippines SEC have confirmed Mining City is still not registered.
Only thing I saw was building a case against local promotors.
Even though Mining City has a bunch of shell companies, Mining City is owned by Eyal Avramovich.
He owns Mine Best, which is pretty much a Mining City spin off.
In my opinion it looks like Eyal Avramovich put Gregory Rogowski, who is a former Mine Best employee, in charge of Mining City…
The webinar was held on October 19th and had Avramovich, Rogowski and a translator (probably for Mining City affiliate investors).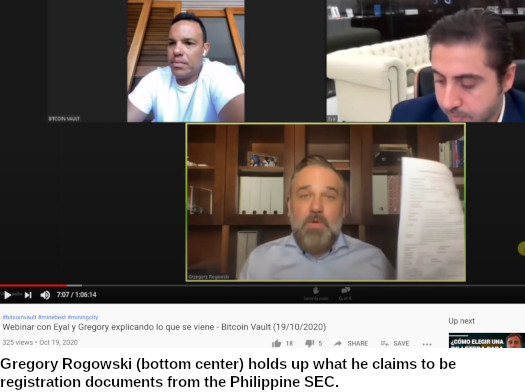 Even though they mainly talked about "haters" and how they are to blame for the decline of BTCV, Rogowski did address the Philippines SEC securities fraud warning.
[6:07] It originated in the Philippines, where the authorities, the Philippines' SEC issued a warning against Mining City, saying that we operated without a license.

And this was an eye-opener. It just blew our minds. Suddenly we knew what we had to do.
I personally don't know how this was an "eye opener" for both Avramovich and Rogowski…
I am sure they know what was happening.
When I did a Mining City review, one of the things I did mention was they were committing securities fraud…
It was so obvious to me…
Not sure how they didn't see that?
As of right now Mining City's website has been blocked from US visitors for a while now.
This is probably because the US SEC doesn't mess around and puts down the hammer.
Rodowski claims he didn't know about this securities fraud, but said the following;
You see, we didn't really need the license for legal reasons, we could have protested the article… but then we understood what we had to do.

We applied for the license.
The thing is the Philippines SEC made it pretty clear they did investigate Mining City prior to banning it.
Plus, the Philippines is not the only country they should be registering in…
They should be registering in every country they have affiliates in.
Alright next Gregory Rogowski drops the biggest piece of information.
[7:04] Many of you may have already seen this document. We have a confirmation that we have a license for Mining City and for Prophetek and for what we are doing, issued by SEC (in) the Philippines.
Prophetek is a shell company owned by Rogowski, providing a ruse behind Mining City ownership.
On paper, Prophetek owns Mining City.
Now, a little birdie (I won't mention any names), decided to contact the Philippines SEC about Rogowski's claims and this was the response: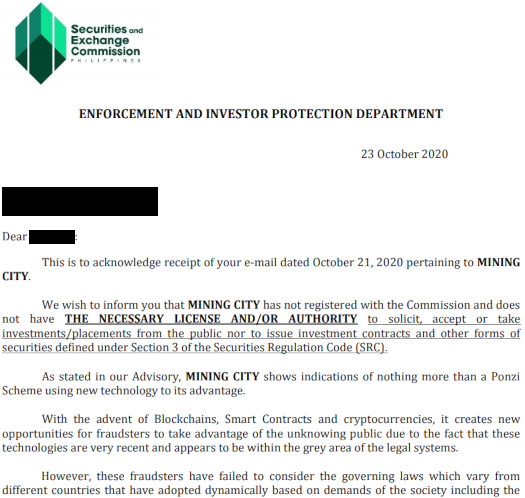 We wish to inform you that Mining City has not registered with the Commission and does not have THE NECESSARY LICENSE AND/OR AUTHORITY to solicit, accept or take investment/placements from the public nor to issue investment contracts and other forms of securities.
On top of that Oliver Leonardo, the Officer-in Charge of the SEC's Enforcement and Investor Protection Department continued;
However, these fraudsters have failed to consider the governing laws which vary from different countries that have adopted dynamically based on demands of the society including the Philippine Securities Laws which deal with such aspects and imposes a heavy penalty for its noncompliance and/or violations.

Although prosecuting MINING CITY involves intricate matters which requires ample time for proper coordination with the other concerned government agencies, the Commission assures the public that MINING CITY's members and/or representatives that are still actively offering, endorsing, selling and recruiting others to join said illegal scheme despite our prevailing Advisory will be dealt with accordingly.

We are in the process of gathering information of these representatives to formally file a complaint.

For the time being, we would appreciate it if you could help us educate and warn the investing public on MINING CITY for them not to be preyed by unscrupulous individuals and/or entities making exaggerated and unfounded claims of earning fabulous profits using its illegal scheme.
Just so you know Mining City has no executive presence in the Philippines.
Avramovich and Rogowski are both based out Europe.
Now I am not sure if there will be any prosecution for local Mining City promotors…
After lying about Mining City had registered with the SEC, Rogowski said the following;
[7:26] This week (the) SEC takes down the warning about Mining City and we are going to promote the fact that we are the only first historically company in the mining industry that operates in what we do with a legal license.
Seven days later, the Philippines SEC warning is STILL online.
Rogowski also claims they have "entered licensing processes" in South Korea.
I think what he means is he will be setting up more shell companies because it looks like that's what he said
[8:18] by the end of November we will be applying for license. And as time progresses, we will be applying for licenses wherever we need it.

In (the) United States, in Europe, wherever this is required.
I will be honest, that webinar was VERY convincing and even had people excited…
But you can't get excited until you see the PROOF.
As of right now BTCV has nose dived and is doing terrible…
I really hoped Mining City pulled through because I know some good leaders in this company saying it's great.
I don't go by great, I go on legalities…
If you say something and it's completely false, you lose completely credibility…
As of right now and probably until this company completely crashes, it will operate as a ponzi scheme by offering illegal securities…
I will keep you in the loop if I find out MAYBE just MAYBE they pulled it off and got a real registration's in ALL of the countries they are operating in but I doubt it…

Now before you go…
If you want to learn how you can take ANY business and scale it to your dreams and goals?
Partner up with me by clicking the banner below: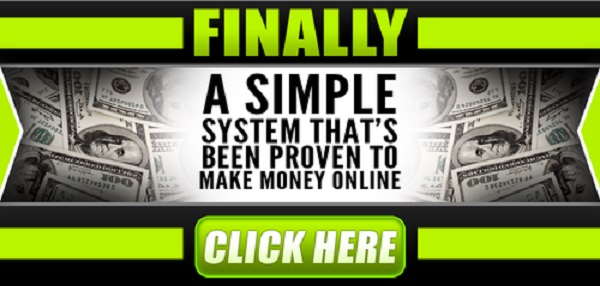 We will show you EXACTLY how to build a business online and customize a plan just for you.
We will help you choose a nice, setup your online business and offers that you can promote.
You can even use a network marketing company if you wish to the sky is the limit.
On top of that you will get ONE on ONE mentoring to make sure you are doing things right.
Follow me on Social media below:
Subscribe To My YouTube Channel Here.
See you at the top,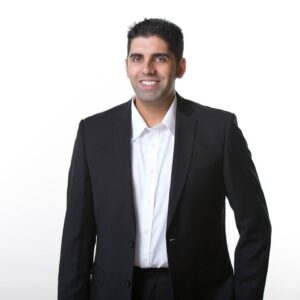 -Jesse Singh
P.S.  If you are tired of failing ANY business, click here and check this out to take your game to the next level.