Welcome to some news where I found out that Faith Sloan recently got terminated from CashFX Group, but she didn't go out without revealing what the company is actually doing.

Faith Sloan confirms that CashFX Group is engaging in securities fraud.
On her October 9th Facebook live event, Sloan said it's an investment opportunity.
[10:04] CashFX is a platform where many people have made some money.

It's not everyone. Y'know when you talk about the investors that are out there, I had a hard time getting quote unquote investors in. It was easier for networkers but for some, not so easy.

The networkers they didn't like giving up 30%. Let's say they want to come in for $100,000; they weren't happy with 30% of that, or $30,000 going into the product, which to this day isn't there yet.

[10:38] And then another 20% taken out on the withdrawal. When in essence that 200% (return) ends up being about 160%. So that's about 60% in ten months, right.

So a lot of investors didn't like that.
At [59:35] Sloan refers to CashFX Group as an "investment deal".
To be honest I already knew this was happening and talked about this in my CashFX Group review.
What really makes this interesting is that Faith Sloan was sued by the SEC for committing securities fraud with TelexFree back in 2014.[1]
This went on for five years and in 2019, she had a final judgement of $778,455.[2]
As part of Faith Sloan's judgement, she is prohibited from violating Section 5 of the Securities Act.[3]
Just so you know MLM companies running passive investment schemes do NOT qualify for some exempt.
They ALL need to register if they are indeed offering a passive return on investment.
As of right now CashFX Group or the owner Huascar Lopez are not registered with the SEC.
Even though Faith Sloan got a judgement and was told never to get involved with passive return companies, she is committing securities fraud.
What triggered Faith Sloan from outing all of this?
Well a few days ago from this news segment, she was terminated for cross recruitment.
The accounts under her mother and daughters name also have been terminated.
Faith Sloan claims she didn't find out directly about the account terminations instead got a message like this that was shared on social media: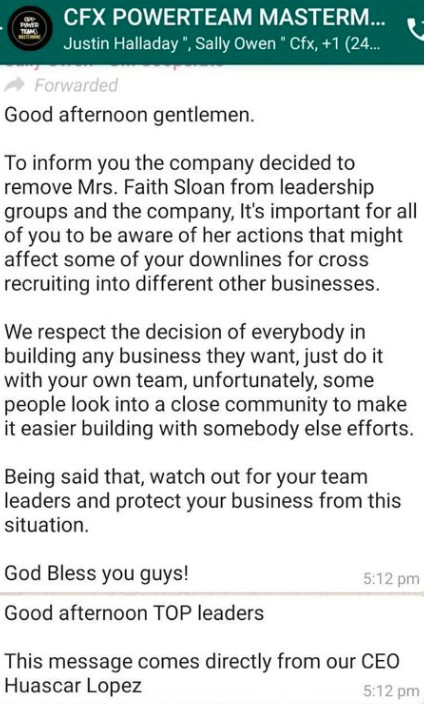 Just a few weeks back, Faith Sloan was promoting QubitTech which is another investment MLM opportunity.
That company is promising up to 250% return on investment.
Right now, Cash FX Group, QubitTech or CEO Greg Limon are NOT registered with the SEC.
Ever since Faith Sloan's judgement, she hasn't stopped…
Crazy thing is two months after her judgement, she was promoting Cloud Token which is another passive income opportunity.
The amount she made in Cloud Token is unknown, but on her Facebook live she disclosed she had a downline of 11,000 and made $50,000 to $70,000 per month in CashFX.[4]
[18:18] I get about $50,000 to $70,000 a month in CashFX.

So overall she made $17 million in sales volume with these 12,000 members.
As of right now she claims to "doing well" with "QubitTech".
[44:20] With QubitTech, in five and a half weeks, I've made $90,000.
As right now the SEC hasn't followed up with her regarding her constant judgement violation, but things always catch up…
Anyway that's all I got for the news on CashFX Group….
Now before you go…
If you want to learn how you can take ANY business and scale it to your dreams and goals?
Partner up with me by clicking the banner below: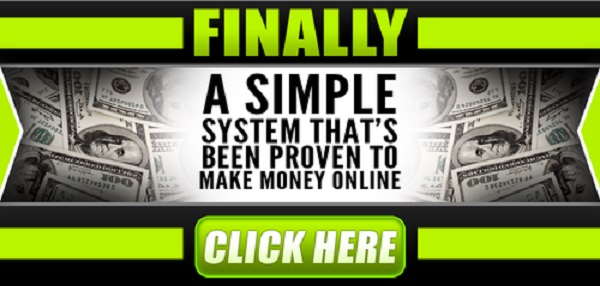 We will show you EXACTLY how to build a business online and customize a plan just for you.
We will help you choose a nice, setup your online business and offers that you can promote.
You can even use a network marketing company if you wish to the sky is the limit.
On top of that you will get ONE on ONE mentoring to make sure you are doing things right.
Follow me on Social media below:
Subscribe To My YouTube Channel Here.
See you at the top,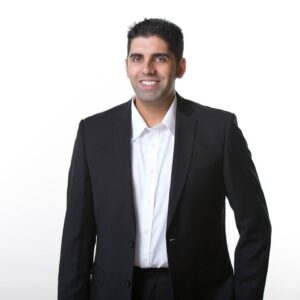 -Jesse Singh
P.S.  If you are tired of failing ANY business, click here and check this out to take your game to the next level.