Welcome to my I-InsureMe review!
This is the latest network marketing company to pop up on my desk and I decided to take a look.
Chances are someone approached you about their services or business opportunity and now you landed here to make sure it's legit.
The good news is I am going to walk you through the company, products and compensation plan so you can make the right decision.
Just PAY close attention and read this to the end…
I-InsureMe Review (Company)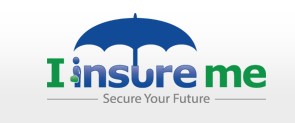 I-InsureMe specializes in the insurance MLM niche.
Company is the brain child of CEO Paul Langley and is based out of Arizona, USA.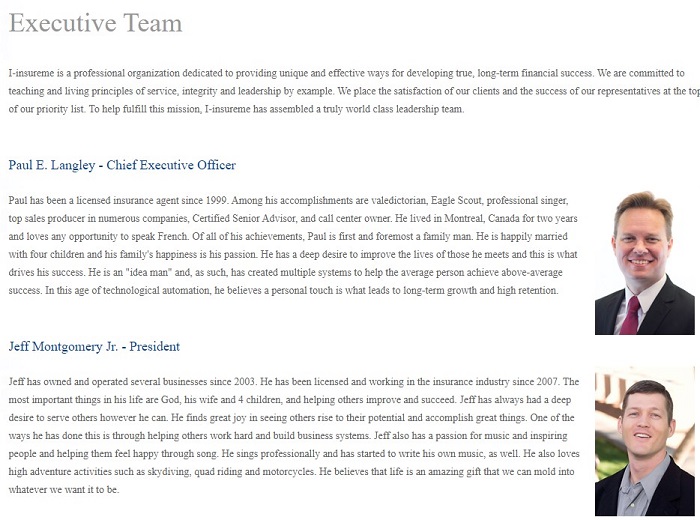 When it comes to business, the earliest venture I have seen him in the past was Clear Business Solutions which was around 2005.
Company offered health care saving plans back then.
As of March 2005, the company has ceased this type of business and now offers a service to close sales for coastal vacations business opportunities.
Coastal Vacations was a network marketing company in the travel niche.
From August 2006 to April 2014, he owned and operated Dedicated Financial Group.
According to the Facebook group, Dedicated Financial Group describes itself as the "developer of retirement rescue plan".
After doing more digging, it's a network marketing company.
This company ended around April 2014 where I-InsureMe launched later that month.
It could be that I-InsureMe is a rebranded version of that company…
I-InsureMe Products
I-InsureMe specializes in property and casualty insurance which is broken down to home, auto and/or business insurance policies.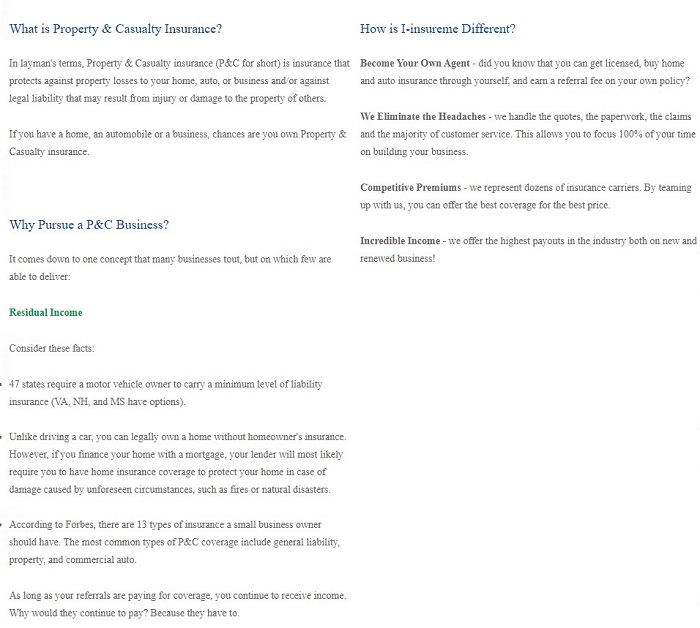 All of their insurance policies are run through Dickinson insurance which is an Idaho agency.
Now through this company, they can provide policies in Arizona, California, Colorado, Connecticut, Florida (no HO), Georgia, Hawaii, Idaho, Illinois, Indiana, Iowa, Minnesota, Missouri, Montana, Nevada, New Mexico, North Carolina, North Dakota, Ohio, Oregon, Pennsylvania, South Carolina, South Dakota, Tennessee, Texas, Utah, Washington, Wisconsin, Wyoming.
Retail pricing will vary because it is insurance so they don't have that available.
It's probably like another other insurance company where it's customer by customer basis.
I-InsureMe does say
70-80% of the time, a person can get better coverage, better pricing, or both on his/her home/auto/business insurance.
Which is always good…
If you want to learn how to promote this properly, check out my Entire Institute review that will teach you how to build ANY business online.
I-InsureMe Compensation Plan
I-InsureMe rewards affiliates for both getting retail customers to buy their insurance policies and sponsor new affiliates.
Affiliate Membership Tiers
I-InsureMe has three affiliate membership tires:
Representative – gets paid to refer insurance clients
Affiliate – paid to recruit new Affiliates and Representative Affiliates
Representative Affiliates – paid to refer insurance clients and recruit new Affiliates and Representative Affiliates
As a Representative can only earn direct commissions, Affiliates can get direct and passed up commissions where Representative Affiliates can get direct, passed up and residual policy commissions.
Insurance Referral Fees
Licensed Representatives and Representative Affiliates earn insurance referral fees.
These are calculated yearly but paid monthly:
1.02% is paid on the first $25,000 PV
5.04% is paid on $25,001 PV and higher volume
This is around 0.085% or 0.42% per month.
Sponsoring Commissions
I-InsureMe pays commissions on IIM System commissions paid by affiliates and Representative Affiliates.
This is $25 per month commission per affiliate or Representative affiliate sponsored.
The first two sponsored affiliates are passed up to the upline (your sponsor).
When your personally sponsored affiliates sponsor their first two people, they will be passed up to you.
Representative affiliates need to only pass up one person.
Residual Commissions
Residual commissions are paid through a unilevel compensation plan and only Representative affiliates can get these commissions.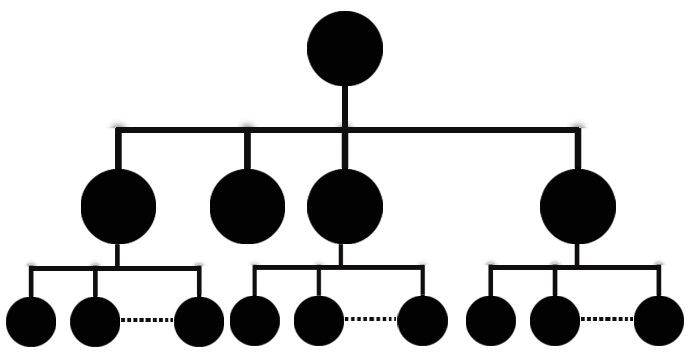 I-InsureMe caps their unilevel at four levels in total.
This is based on the commissions paid on IIM System fee's, policy sales or total PV procued by unilevel team.
Level 1 (personally sponsored affiliates) – unlicensed Representative Affiliates earn the standard recruitment commission rate ($25 a month), licensed Representative Affiliates earn 0.24% of generated PV if it is higher
Level 2 to 4 – $10 paid on the first policy of affiliates on these levels, or 0.24% of their total PV paid at 0.02% a month
For level 1, the $25 sponsoring commission is standard…
Cost To Join I-InsureMe
I-InsureMe affiliate pricing for the network marketing side of things is:
Affiliate – $50 a month
Representative Affiliate – $149 a month
These are NON-refundable…
Those fee's can be waived if you hit the following criteria:
Affiliate fees are waived when a Representative Affiliate sells their first insurance policy
50% of the IIM System Fee is waived when a Representative or Representative Affiliate refers $12,500 PV
100% of the IIM System Fee is waived when a Representative or Representative Affiliate refers $25,000 PV
The regular rep membership which is non-MLM costs $99 per month.
Unlike all the other I-InsureMe reviews out there I am going to keep it real with you…
PAY close attention now…
Final Verdict
So does the I-InsureMe scam exist?
Well let's look at the facts…
Ownership is transparent and they do offer retail services like insurance policies but they completely messed it up with their compensation plan.
They have NO retail incentives at all…
The compensation plan is 100% geared towards sponsoring other affiliates which is a big no no.
Network marketing companies that don't have more retail sales coming into the company compared to affiliates are considered a pyramid scheme according to the FTC.[1]
End of the day, this companies compensation plan needs a overhaul to make it compliant.
In the meantime I can't recommend this the way it is…
Once they overhaul this compensation plan and make it compliant, I can recommend it then…
I hope you enjoyed my I-InsureMe review and if you have any questions feel free to ask in the comments below…
Now before you go…
If you want to learn how you can take ANY business and scale it to your dreams and goals?
Partner up with me by clicking the banner below: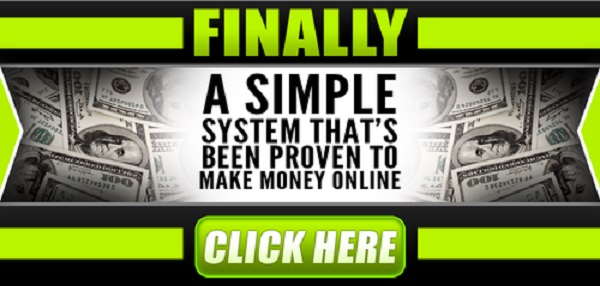 We will show you EXACTLY how to build a business online and customize a plan just for you.
We will help you choose a nice, setup your online business and offers that you can promote.
You can even use a network marketing company if you wish to the sky is the limit.
On top of that you will get ONE on ONE mentoring to make sure you are doing things right.
Follow me on Social media below:
Subscribe To My YouTube Channel Here.
See you at the top,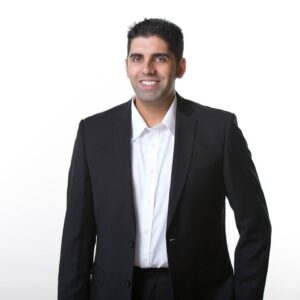 -Jesse Singh
P.S.  If you are tired of failing ANY business, click here and check this out to take your game to the next level.