Welcome to my ImpulsX Review!
There has been some buzz about this company so I decided to look into it further.
Chances are you were approached by an affiliate and showed you the business opportunity and now you landed here to make sure it's legit.
The good news is I am going to walk you through the company, products and compensation plan so you can make the right decision.
Just PAY close attention and read this to the end…
ImpulsX Review (Company)

This company is three components in one.
They make up ImpulsX Passive, ImpulsX Trading and the EurekaX crypto exchange.
All of them are run on separate website and none of them have information on who runs or owns it.
What I do know is EurekaX is a cryptocurrency exchange that is owned by CEO Darren Bradbury.
I am not sure if he has any partners or not.
Derren Bradbury started his first company called PowerHouse Feeder back in 2017.
In 2019, he was the owner of My Passive Trades.
My Passive Trades went under twice where May 2020 being the second time.
Darren Bradury launched EurekaCoin Late 2019.
ERK is publicly tradeable and listed on a few dodgy exchanges. After debuting at 0.6 cents last December, ERK is currently trading at around 1 cent.
ERK was around 1 to 2 cents for most of 2020.
When ImpulsX Passive launched late 2020, ERK went to 8 cents.
October and November ERK dropped back under 2 cents and sitting around 2 to 3 cents now.
Eureka Exchange handles the cryptocurrency side of ImpulsX.
Bradbury teamed up with Mark Verdellen to launch ImpulsX…
Mark Vardellen promoted Elysium Capital which ended up being a ponzi scheme about a year ago.
Anyway, that's all I got on the company, let's take a look at the product side next…
ImpulsX Products
When it comes to retail products or services, ImpulsX has nothing at the retail level.
All you can do is become an affiliate and promote their affiliate membership.
ImpulsX Compensation Plan
ImpulsX Passive seems to be an ad credit MLM company.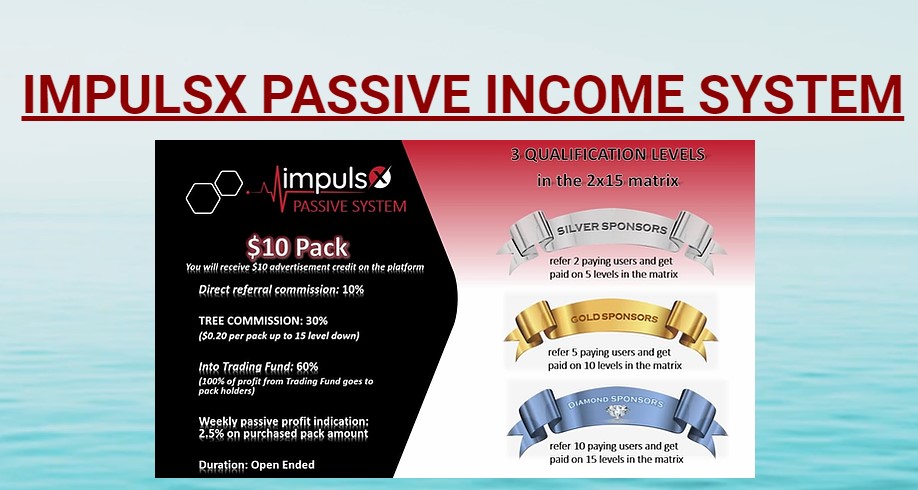 ImpulsX Passive affiliates drop $10 in adpacks on a promise of a 2.5% weekly ROI.
You can also earn $10 referral commissions when you personally sponsor people who buy these adpacks.
Residual Commissions are paid through a 2×20 matrix compensation plan.
Residual commissions are paid at 20 cents per adpack purchased by affiliates who are placed in the matrix.
In order to unlock beyond level 4 in the ImpulsX Passive compensation plan, you must do the following:
Silver – invest in 10 adpacks and recruit two investing affiliates to earn residual commissions down to level 8
Gold – invest in 100 adpacks and recruit five investing affiliates to earn residual commissions down to level 12
Diamond – invest in 500 adpacks and recruit ten investing affiliates to earn residual commissions down to level 15
Ruby – invest in 1000 adpacks and recruit thirty investing affiliates to earn residual commissions down to level 17
Emerald – invest in 2500 adpacks and recruit fifty investing affiliates to earn residual commissions down to level 20
ImpulsX Trading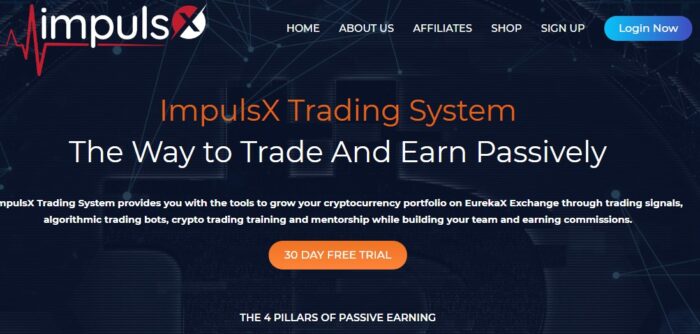 ImpulsX has the recruiting and crypto trading bot element combined.
$9.99 a month to maintain affiliate membership
$39.99 a month for "Ninja Trading Modules"
$39.99 a month for access to NBot, hosted on EurekaX
$249.99 a month for "personal mentoring training"
ImpulsX Trading pays 7.5% of the fee's as residual commissions in their 3×10 matrix compensation plan.
You must have the affiliate membership $9.99 per month in order to earn direct commissions.
To earn in the matrix, you must have the two $39.99 per month plans and the $249.99 per month plan.
EurekaX Crypto Exchange
EurekaX is their crypto exchange part of Impulsx.
They take 25% of the fee charged and use them to pay commissions down two levels through a unilevel compensation plan structure.
Exact percentages are not disclosed.
How Much Does ImpulsX Cost
ImpulsX Passive affiliate membership looks to be free.
In order to be part of the income opportunity, you must put in a $10 investment.
ImpulsX Trading will run you at least $9.99 per month and to be part of the income opportunity, you must have both $39.99 memberships and the $249.99 per month membership.
Unlike all the other ImpulsX reviews out there I am going to tell you the truth…
Final Verdict
So does the ImpulsX scam exist?
Well let's look at the facts…
They are combining adcredit's and trading pot which according to the SEC are both ponzi schemes.
Traffic Monsoon was the biggest adcredit MLM company and the SEC shut them down.
Plus them offering passive returns would mean they would need to register with all the financial regulators of the countries they have affiliates in.
Not to mention they have no retail products or services which would make this a pyramid scheme as well.
All in all, I can't recommend this cryptocurrency adcredit MLM company.
I hope you enjoyed my ImpulsX review and if you have any questions, feel free to ask in the comments below…
Now before you go…
If you want to learn how you can take ANY business and scale it to your dreams and goals?
Partner up with me by clicking the banner below: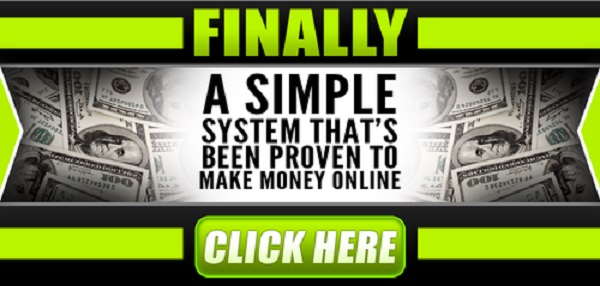 We will show you EXACTLY how to build a business online and customize a plan just for you.
We will help you choose a nice, setup your online business and offers that you can promote.
You can even use a network marketing company if you wish to the sky is the limit.
On top of that you will get ONE on ONE mentoring to make sure you are doing things right.
Follow me on Social media below:
Subscribe To My YouTube Channel Here.
See you at the top,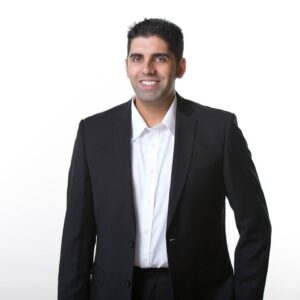 -Jesse Singh
P.S.  If you are tired of failing ANY business, click here and check this out to take your game to the next level.