Welcome to my iX Global review!
There has been some buzz about this company and I decided to see what that was all about.
Chances are someone approached you about their personal development platform or business opportunity and you landed here to make sure it's legit.
The good news is I am going to walk you through the company, products and compensation plan so you can make the right decision to join or not…
PAY close attention and read this to the end…
iX Global Review (Company)

iX Global launched last year and the leadership behind the company is co-founders Anita David (COO), Helen Boyle (CCO) and Joe Martinez (CEO).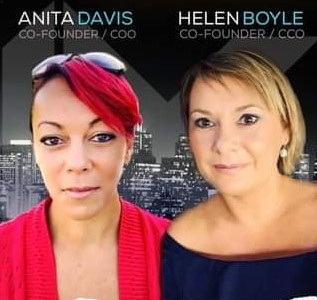 Oddly on their website, it just shows Joe Martinez as the CEO CO-Founder.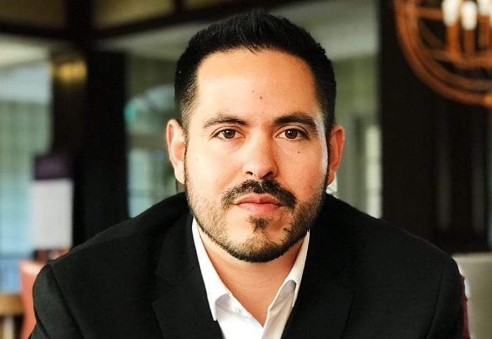 It would make sense for iX Global to list ALL of the co-founders…
Before iX Global, Joe Martinez was promoting Kuvera Global.
In the past, Kuvera Global has fell apart a few times and now is rebooting itself as iGenius.
Possible review about that coming in the near future.
iX Global website domain "ixglobal.us" was registered in January 2020 which was about a month after Kuvera Global collapsed.
Looks like Helen Boyle was an affiliate for Kuvera Global as well.
Anita Davis didn't have anything MLM related, she does have a motivational videos YouTube channel.
Helen Boyle and Anita Davis are based out of the UK where Joe Martinez is from the USA.
Now I couldn't find a corporate address for iX Global, but did find this in the terms and conditions:
all aspects of the Website and Company Services shall be governed by and construed in accordance with the internal laws of the State of Utah.
So possible that the company is running out of Utah or at least incorporated there.
Next, lets look into the products next inside of this iX Global review…
Wait before you keep going…
If you want to learn how to actually make money online and build something long term without getting scammed, partner with me below and I will show you the right way…

iX Global Reviews (Products)
iX Global promotes an app-based personal development platform.
iX has created a platform that will help you innovate and transform your life.

Our platform utilizes some of today's latest trends and then we weave those trends together with good old-fashioned principle centered development (in every or any area you are looking to develop).
I know the personal development niche is huge and is actually gaining more traction these days.
To get access to iX Global's platform, there are the following memberships:
$124.99 a month for Basic
$145 a month for Pro
$174.99 a month for Premium (affiliate membership option)
You can purchase them quarterly as well.
Other addons you can purchase include:
a hosted account for $19.99 a month
a hosted account plus iX Alerts for $39.99 a month
Alerts Pro for $19.99 a month
I couldn't find any information on these add-ons.
For example, the hosting…
Can you host a website there?
If so for $19.99 the pricing is right on bar with WP Engine which is a very good WordPress based hosting.
It's extremely fast…
On a February 9th video I saw on YouTube, it suggests that all three of those memberships are affiliate based.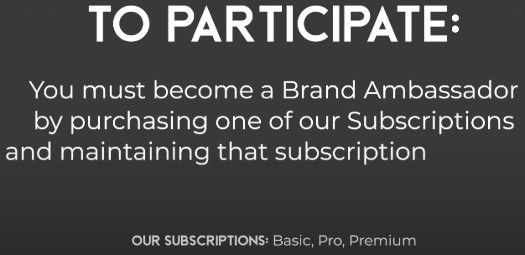 They probably want to change that because according to the FTC they want to see network marketing companies with more retail sales than affiliates.
That would land this company in pyramid scheme territory if there is no option for retail customers to buy their products or services without becoming an affiliate first…
Let's check out the compensation plan next in this unbiased iX Global review…
iX Global Compensation Plan
iX Global compensation plan rewards affiliates to recruit other members who buy one of their membership subscriptions.
There are performance based bonuses that rewards affiliates even more.
iX Global Ranks
Recruitment Commissions
Residual Commissions
VIP Bonus
iX Global did a pretty good video on their compensation plan so I am going to post that below.
Just remember this is going to be 100% biased so use it for information purposes only.
Personally, I think they really need to beef up the retail incentives if they want to make this company long term.
That will start at their product level where you can purchase them without becoming an affiliate.
Not sure if they will do that or not…
Cost To Join iXGlobal
According to the February 9th marketing video, it looks like all of the iX Global memberships are affiliate memberships.
$124.99 a month for Basic
$145 a month for Pro
$174.99 a month for Premium
The main difference between them is how much you can put into the iX Global's passive trading opportunity.
Unlike all the other iX Global reviews I am going to keep it real with you…
FInal Verdict
iX Global promotes itself as an education platform which is actually perfectly fine.
Every year we release a free 60 to 90 minute Masterclass where an iX coach guides you through a powerful transformational principle. Classes are free to attend. Watch to connect with great mentors and learn about upcoming events.
Where that falls apart is the fact nothing is said about their passive investment scheme.
Apparently, iX AI Trading Self Management accounts (SMA) can give you a 5% to 20% return a month on your investment.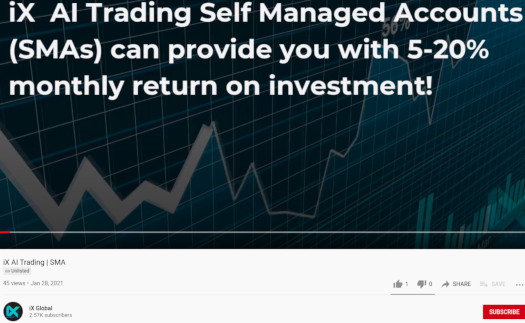 The video above is unlisted, but why be so secretive towards that?
It looks to me that iX Global is just another clone of Kuvera Global…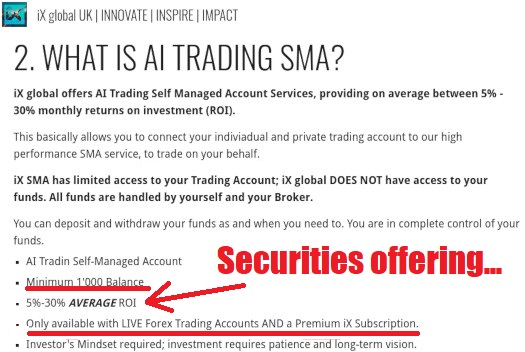 It's your typical make money while you sleep because this special AI Trading Bot does all the trading for you…
Because of that piece of information, they need to register anywhere they are offering this service.
At a minimum they must be registered with the SEC because it's a US based company and possible the UK's FCA because Helen Boyle and Anita Davis from there.
By the way they have no registrations anywhere.
Now they brought in a ponzi element to the company.
There is no such thing as these AI trading bots…
All that is happening is new investments are paying off existing members.
On the compensation plan side of things, they need actual retail incentives and have an option for customers to purchase their services without becoming an affiliate.
How Can iX Global Be A Legit MLM?
Completely get rid of the investment opportunity because IX Global is commiting securities fraud…
Second would be make products and services accessible to actual customers.
In other words, you can't have everyone become an affiliate first.
I doubt iX Global is going to listen to me anyway, so because of that I can't recommend this company the way it is…
It's a pyramid + ponzi scam in one.
Now before you go…
If you want to learn how you can take ANY business and scale it to your dreams and goals?
Partner up with me by clicking the banner below: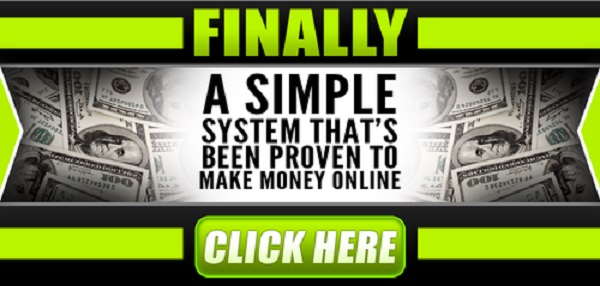 We will show you EXACTLY how to build a business online and customize a plan just for you.
We will help you choose a nice, setup your online business and offers that you can promote.
You can even use a network marketing company if you wish to the sky is the limit.
On top of that you will get ONE on ONE mentoring to make sure you are doing things right.
Follow me on Social media below:
Subscribe To My YouTube Channel Here.
See you at the top,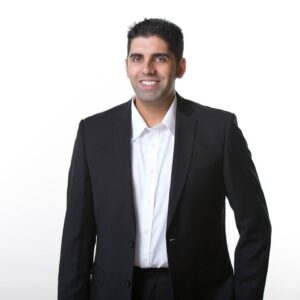 -Jesse Singh
P.S.  If you are tired of failing ANY business, click here and check this out to take your game to the next level.