Investrix is getting a lot of heat from their investors recently because they haven't been paying their investors for over 8 days now.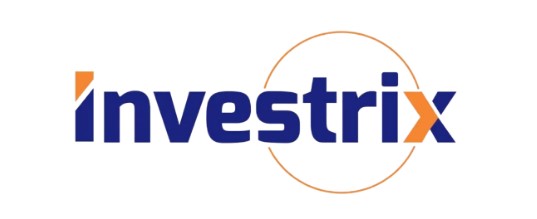 So what is going on with Investrix?
I found information on a Facebook group where someone from their Telegram group named Elisabeth that goes by the name CryptoHeros tells them what is happening.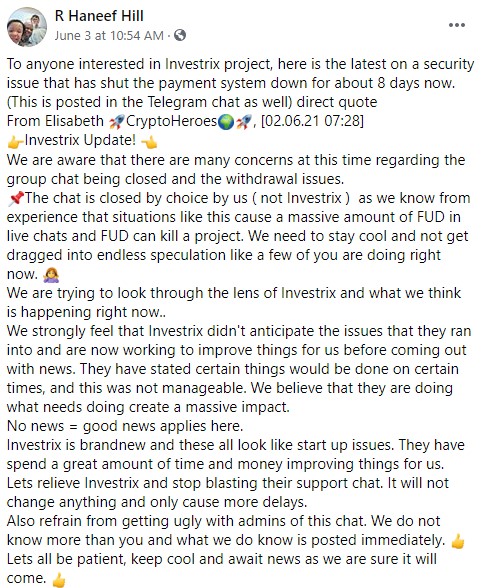 Investrix Update!

We are aware that there are many concerns at this time regarding the group chat being closed and the withdrawal issues.

The chat is closed by choice by us ( not Investrix ) as we know from experience that situations like this cause a massive amount of FUD in live chats and FUD can kill a project. We need to stay cool and not get dragged into endless speculation like a few of you are doing right now.

We are trying to look through the lens of Investrix and what we think is happening right now..

We strongly feel that Investrix didn't anticipate the issues that they ran into and are now working to improve things for us before coming out with news. They have stated certain things would be done on certain times, and this was not manageable. We believe that they are doing what needs doing create a massive impact.

No news = good news applies here.

Investrix is brandnew and these all look like start up issues. They have spend a great amount of time and money improving things for us.

Lets relieve Investrix and stop blasting their support chat. It will not change anything and only cause more delays.

Also refrain from getting ugly with admins of this chat. We do not know more than you and what we do know is posted immediately.

Lets all be patient, keep cool and await news as we are sure it will come.
In my original Investrix review, the company was claiming 47.8% ROI over 14 days with no proof of actual external revenue to fund the returns.
Not only that, the admin(s) of the company are totally anonymous so no one can be held accountable if this company does pull an exit-scam.
I have a feeling many investors are going to take some hard losses because they had packages up to $100,000 they wanted people to invest with.
In my conclusion, all I could verify was new investments paying off existing members which made this company a ponzi scheme.
Unfortunately when crypto MLM companies that operate as a ponzi scheme have payment issues, it's usually the beginning of the end.
Looks like new recruitment slowed down and they could no longer keep up with the returns.
In other words, they ran out of money…
I will keep you all updated if I find anything new.
Tired of Scams?
If you landed on this blog, you want to actually know how to make money online right?
When it comes to crypto, one thing you need is CASHFLOW so you can invest in more legit cryptocurrencies and getting another job isn't the best way to do that…
If you want to learn how you can increase your cash flow without trading your time for money…

Once you learn this skill set, the sky is the limit when it comes to cash flow.
From there you can invest in appreciating assets and build long term wealth.
Remember to follow me on social media below because I am actually real and want to serve you.
Follow me on Social media below:
Subscribe To My YouTube Channel Here.
See you at the top,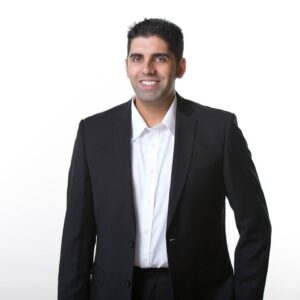 -Jesse Singh
P.S.  If you are tired of failing ANY business, click here and check this out to take your game to the next level.