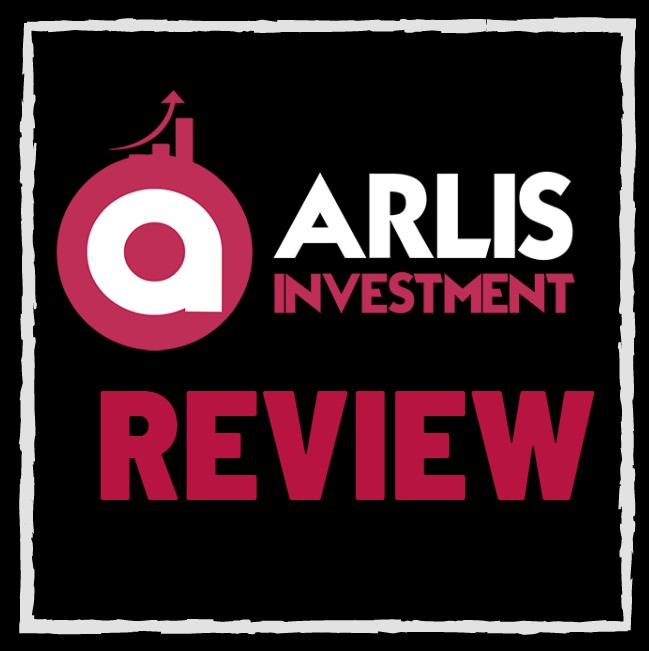 Arlis Investment Review – Can You Earn 4% Daily or Ponzi Scam?
Arlis Investment Review By Non-Affiliate
Welcome to my third party Arlis Investment review!
There has been some buzz about this cryptocurrency passive income opportunity and I decided to take a closer look.
Chances are someone approached you about their ability to produce some huge daily returns and now you landed here to make sure it's legit.
The good news is I am going to walk you through the company, products and compensation plan so you can make the right decision.
Just PAY close attention and read this to the end…
What Is Arlis Investment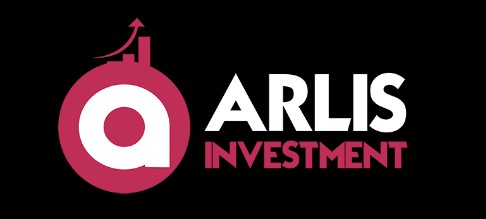 Arlis Investment is a company that specializes in crypto currency trading.
They apparently manage professional crypto currency traders and leverage them to produce the returns for their clients.
ArlisInvestment.com does have a UK incorporation with the company Cryptostake LTD listed.
It was incorporated on January 22nd, 2018.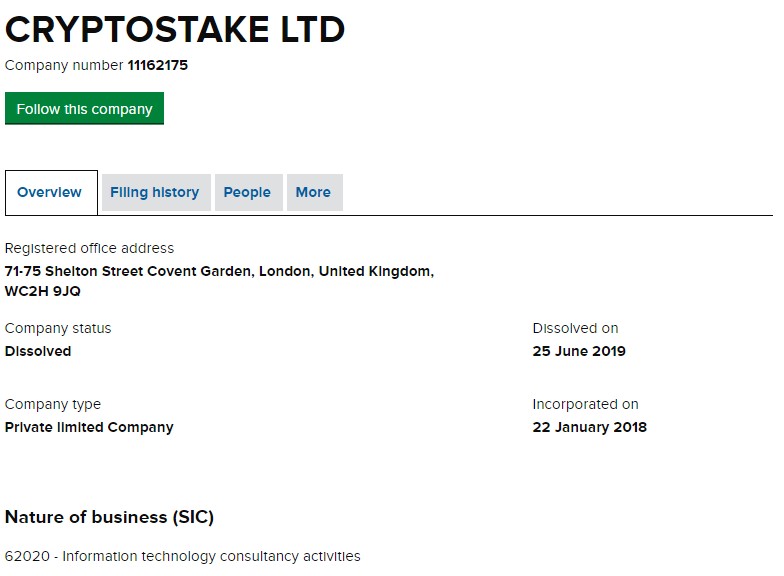 According to the official documents, they incorporation was dissolved on June 25th, 2019.
So that's a bit embarrassing…
Arlis Investment is using other peoples UK incorporations but didn't even do any research to see if it's still active…
The company pretty much loses all credibility going forward…
The domain "ArLisiNnvestment.com" was privately registered on December 9th, 2020…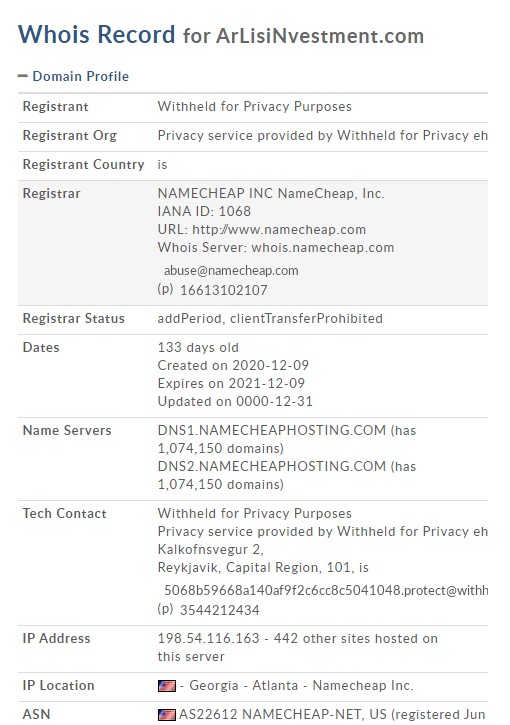 This shows the REAL starting point of this company and not 2018…
There is a man named Gabriel Gateln listed on their website, but that's clearly from the dissolved corporation from before…
Arlis Investment's mission statement goes like this…
"As BitCoin mining demand grows and more than half of its profits spending for mining hardware power consumption, the industry sees an emerging opportunity in catering to the hosting needs of BitCoin miners, who typically seek high-density space with cheap power. Beginning 2013 we have decided to focus our wholesale electricity trading efforts in the BitCoin mining industry and built an exclusive data center from industry-leading equipment based on world-class standards to host miners in the best condition with the lowest power cost."
Unfortunately it's all a lie…
Actually stole that statement from a company called "Coince" which seems to be offline now.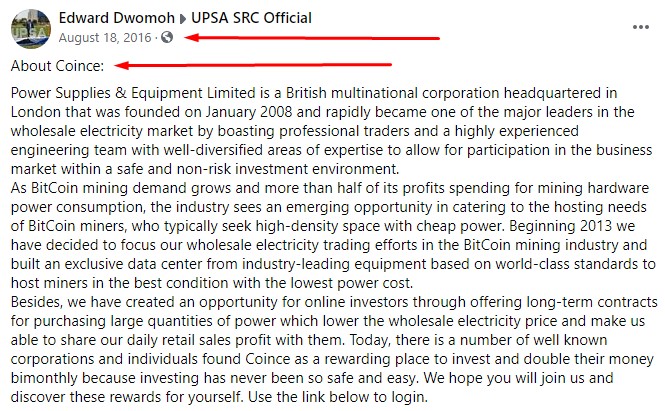 Well, we don't know who actually runs or owns the business and now it's getting clear on why…
Let's keep going in this ArlisInvestment review…
Arlis Investment Products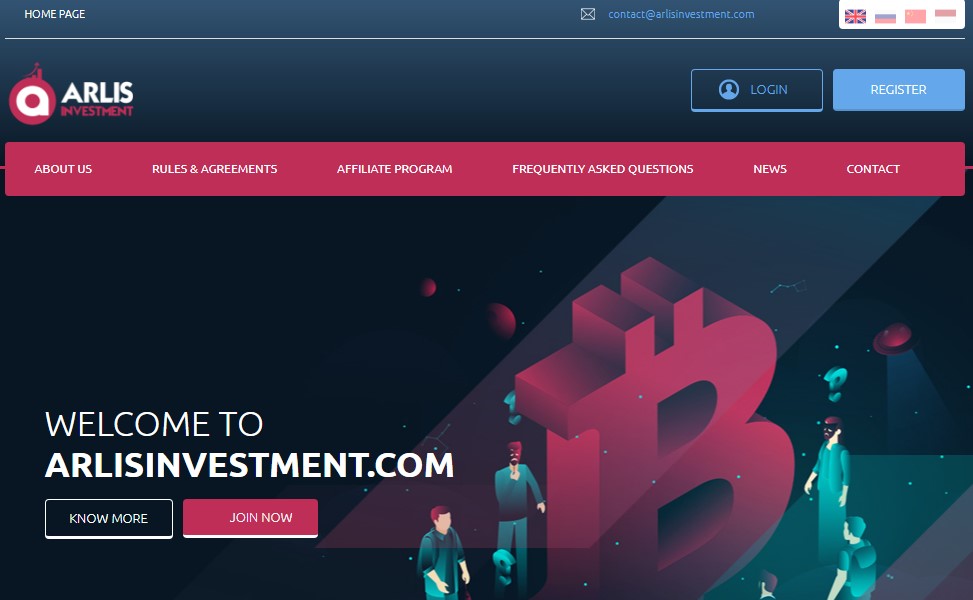 Arlis Investment offers their "expert" trading services in the cryptocurrency space where you just hand over your hard earned money to them and they trade on your behalf with guaranteed returns…
Sadly because they have been so transparent this whole time…
I would take that with a grain of salt…
Other crypto MLM companies in this space are Impero Solutions and HyperFund.
Investment Packages
Arlis Investment has members invest into the company on a promise they will get a daily return.
There wasn't a maturity date to any of the investment packages in terms of days.
I also noticed their profit calculator was broken at this time as well.
Investment Package 1 – deposit $100 to $50,000 and earn 3% daily
Investment Package 2 – deposit $50,000 to $100,000 and earn 3.5% daily
Investment Package 3 – deposit $100,000+ and earn 4% daily
It's interesting they don't have a maximum cap on investment package 3.
Arlis Investment Compensation Plan
When it comes to the affiliate program, it's pretty straight forward.
You can earn 10% referral commissions on anyone you sponsor into the company who purchases an investment packages.
If you become a Representative, you can earn 20% referral commissions on anyone you sponsor who buys an investment package.
There is no information on how to qualify for Representative…

Cost To Joining ArlisInvestment
The cost to joining ArlisInvestment will run you at least $100 for their first investment package.
There is no limit on how much you can invest with on Investment package 3.
Arlis Investment Scam or Legit?
So does the Arlis Investment scam exist?
Let's just look at the facts shall we?
First we have no idea who runs or owns the company but wants you to invest anywhere between $100 to unlimited…
They are promising some crazy returns but don't see them registered with any financial regulator (FCA).
The incorporation information on their website belongs to someone else and they dissolved the company in 2019.
I couldn't verify actual trading going on in the company to produce external revenue anywhere.
All I am seeing is new investments paying off existing members making this another ponzi scheme.
But what did you expect right?
You can put UNLIMITED amount in the company and they will give you a 4% daily return.
If this company could legally pull that in there would be no affiliate program…
All they would need is a handful of investors and become billionaires in a short few years.
But obviously that's not the case…
I can't recommend Arlis Investment to anyone because it's just a straight up ponzi scam…
ArlisInvestment Review / Recommendation
If you landed on this blog, you want to actually know how to make money online right?
I know this world in this space is plagued with scams and it's my duty to help people to see the truth behind the legit VS scams.
If you are sick and tired of jumping opportunity to opportunity just find out it was a scam and want to build something real for the long haul…

This is the EXACT methods that top earners in these companies leverage to get a TON of referrals on demand…
Unfortunately, a lot of people use these strategies for promoting crappy scams instead of giving their members that provides value.
I am going to teach you THERE skills so you can put a better impact in the world instead of promoting scam after scam.
All you have to do is promise me you will use what I am going to teach you for good…
Once you are trained up, you will NEVER have to trade your time for money again and finally have the time freedom to spend it with your loved ones.
That was my goal at least when I first got started seven years ago and it was the best decision of my life…
If you want to start crushing it like me, partner up with me below:

Remember to follow me on social media below because I am actually real and want to serve you.
Follow me on Social media below:
Subscribe To My YouTube Channel Here.
See you at the top,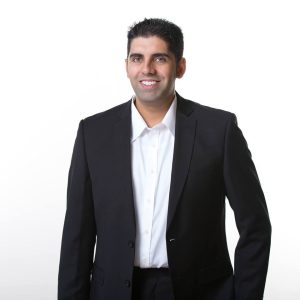 -Jesse Singh
P.S.  If you are tired of failing ANY business, click here and check this out to take your game to the next level.