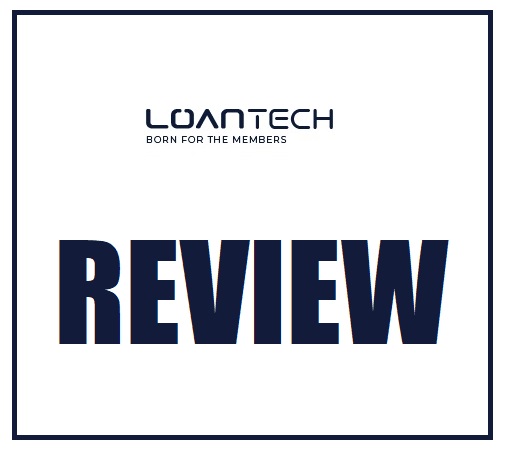 LoanTech Review – Legit 3% Daily ROI Forever MLM or Scam?
Welcome to my LoanTech Review!
A lot of people requested I write up a review on this company and apparently they have over 155,000 active members as we speak.
I decided to take a deeper look and see how they can guarantee 3% daily return forever…
They claim to be a crowdfunding/AI trading company but I will be the judge of that…
In this review I am going to walk you through the company, products and compensation plan so you can make the right decision.
PAY close attention and read this to the end…
LoanTech Review (Company)

LoanTech claims the company is founded by Chris D. Wright (CEO) and launched the company around February 2nd, 2020.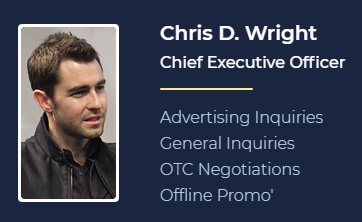 He also goes by Chris Wright…
I checked Facebook and looks like he has over 4,000 friends on there.
According to Facebook he is located in Harlow, Essex, England.
What is odd about his profile is he just has ONE profile picture and tons of marketing pictures of LoanTech only…
Plus it doesn't seem he existed before 2019…
To me that is a red flag…
This Chris Wright dude might not be real and is just a fake CEO.
I never seen a Facebook profile that lacked such detail.
You are usually on Facebook because you want to share some of your personal life there but not this guy.
He magically came into existence late 2019…
The reason why he has so many friends is because LoanTech has over 155,000 members and he promotes his profile there.
The domain name "loantech.top" was first registered August 24th, 2020 and was updated February 2nd, 2020.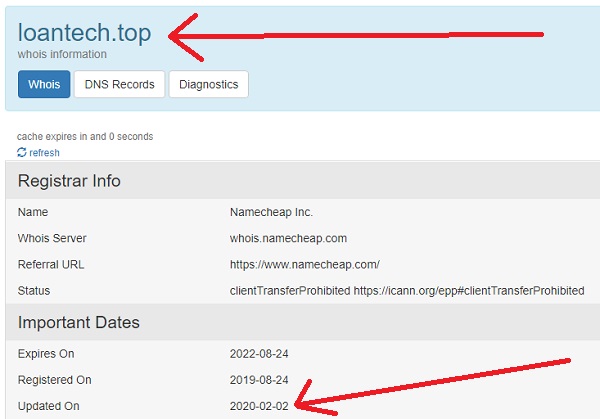 Information was set to private, but I did find "Bright Future Loans LTD" listed as the company on their website.
They were incorporated in the UK on October 31st 2019.
Nature of their business is "Financial management".
The address provided is 17 Little Grove Field, Harlow, Essex, England, CM20 1HY.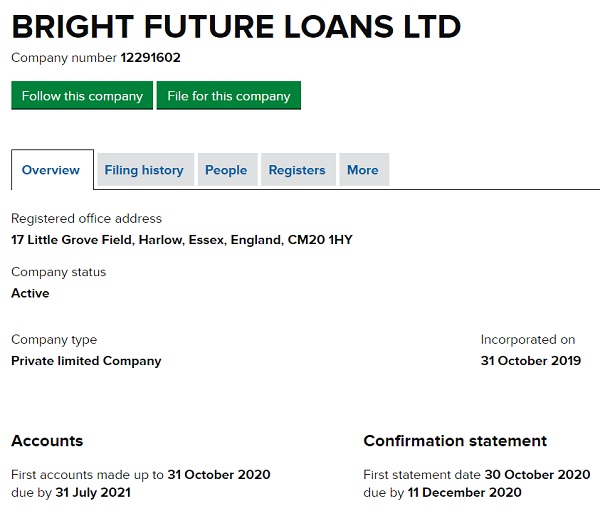 When I checked this address on Google some random house popped up and doesn't look like a business…
Fake address?
Possibly…
Note that this only a  UK incorporation which can be bought for cheap and has no regulations.
Now because this company promises a guaranteed 3% per day, they must be registered with the FCA which is UK securities devision.
After doing a search I found out they are NOT registered with the FCA…
Which is another red flag…
To put icing on the cake they apparently had experience since 2013, but this looks like fake news to me: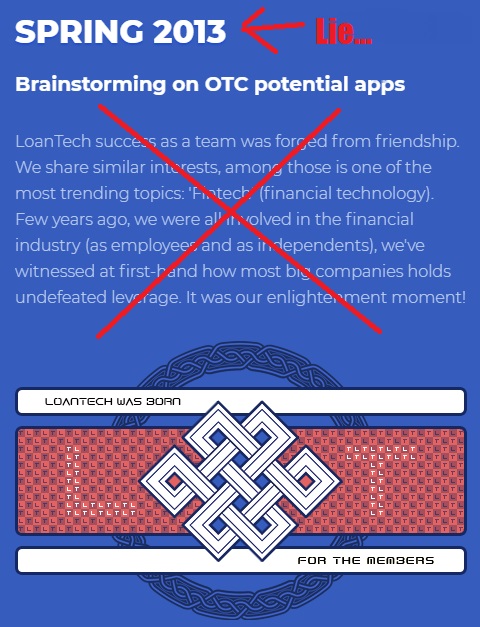 When a company is not open about who they are and what they do you should really think twice before investing your hard earned money into it.
Let's check out the products next inside of this LoanTech.top review…
LoanTech Products
When it comes to retail products or services, LoanTech doesn't have any.
All you can do is become an affiliate and promote the affiliate membership.
On top of that as an affiliate you can invest into the company…
LoanTech Compensation Plan
LoanTech has affiliates invest anywhere between $10 to $30,000 on a promise they will get a 3% daily return.
They claim you break even at 22 days and by day 30, if you invested $30,000 you will make a total return of $34752.00.
That is $4752.00 profit over 30 days…
Status and Rewards
You can qualify for Power Affiliate and Leader.
Power Affiliate – Recruit 50 active members, earn 3%+ commissions and $100 flat bonus ($300 extra for another 50 active referrals)
Leader Status – Recruit 100 active members, earn 5%+ commissions and $300 flat bonus ($500 extra for another 100 active referrals)
Commission Rates (Investment)
The more you invest the higher your commission rate as an affiliate.
Invest from $10 to $499 earn 10%
Invest from $500 to $2999 earn 12%
Invest from $3000+ earn $15%
Referral Commissions
Overall LoanTech pays their referral commissions through a two tier unilevel compensation plan as a percentage on invested funds.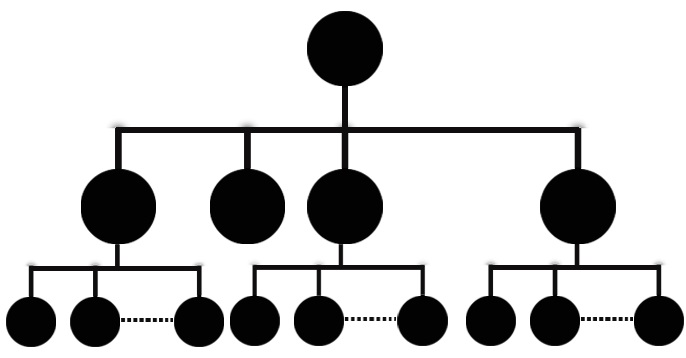 Level 1 – 10% to 20% (personally sponsored affiliates)
Level 2 – 2%
Remember the Status and Rewards bonuses add to the baseline 10% for level 1.
Cost To Join LoanTech.Top
Cost to join LoanTech as an affiliate is free, but if you want to be part of the investment opportunity you have to drop $10 min…
The more you invest the more money you can make.
Unlike all the other LoanTech reviews out there I am going to keep it real…
Final Verdict
So does the LoanTech scam exist?
Well let's look at the facts…
First red flag is Chris Wright doesn't exist outside of this company and his Facebook profile is very new…
The profile picture just looks like a stock picture so the actual owner(s) are anonymous…
Second, they have no retail products or services which makes this company illegal everywhere.
Three, they are offering passive returns and are not registered with the UK FCA or ANY securities regulator…
LoanTech claims they make their external revenue through crowdfunding and AI trading but the truth is I didn't find any proof of this…
If David Wright really did figure out to make 3% per day ROI, why would he need ANY investments from people?
The truth of the matter is newly invested funds are paying off existing members which makes this company another ponzi scheme…
Don't be fooled…
Get out while you can still withdraw!
If you want to learn how you can take ANY business and scale it to your dreams and goals?
Partner up with me by clicking the banner below: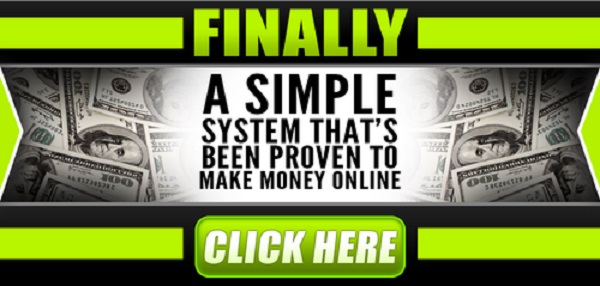 We will show you EXACTLY how to build a business online and customize a plan just for you.
We will help you choose a nice, setup your online business and offers that you can promote.
You can even use a network marketing company if you wish to the sky is the limit.
On top of that you will get ONE on ONE mentoring to make sure you are doing things right.
I hope you enjoyed my LoanTech review and if you have ANY questions feel free to ask in the comments below and I will get back to you as soon as I can.
Follow me on Social media below:
Subscribe To My YouTube Channel Here.
See you at the top,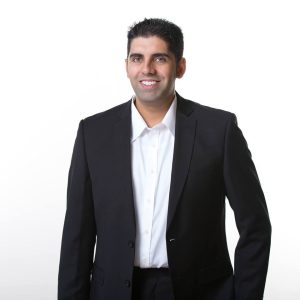 -Jesse Singh
P.S.  If you are tired of failing ANY business, click here and check this out to take your game to the next level.