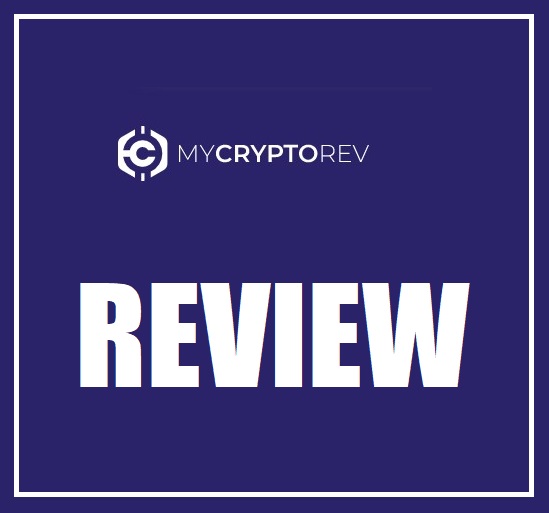 My Crypto Rev Review – Legit Way To 4% Daily ROI or Scam?
Welcome to My Crypto Rev Review!
This is the latest company in this space that is promising some crazy returns.
Up to 4% daily over 200 days to be exact and you landed here to make sure it's legit.
The good news is I am going to walk you through the company, products and compensation plan so you can make the right decision.
Just PAY close attention and read this to the end…
My Crypto Rev Review (Company)

My Crypto Rev is run by the founder and CEO Conner Robert who owns another company called My Gold Rev.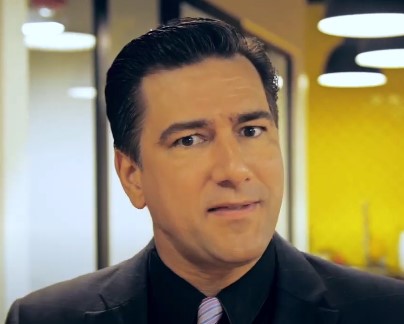 Unfortunately, just like before I can't find ANY digital footprint on Conner Robert…
How can a CEO not exist outside the company?
His acting job was good but you can tell all the content is heavy scripted…
All of the actors and actresses in the video seem to be from North America judging by the accent.
They do have a UK incorporation certificate on the website and Conner Robert is listed as an director.
The company listed is "MYCRYPTOREV LIMITED".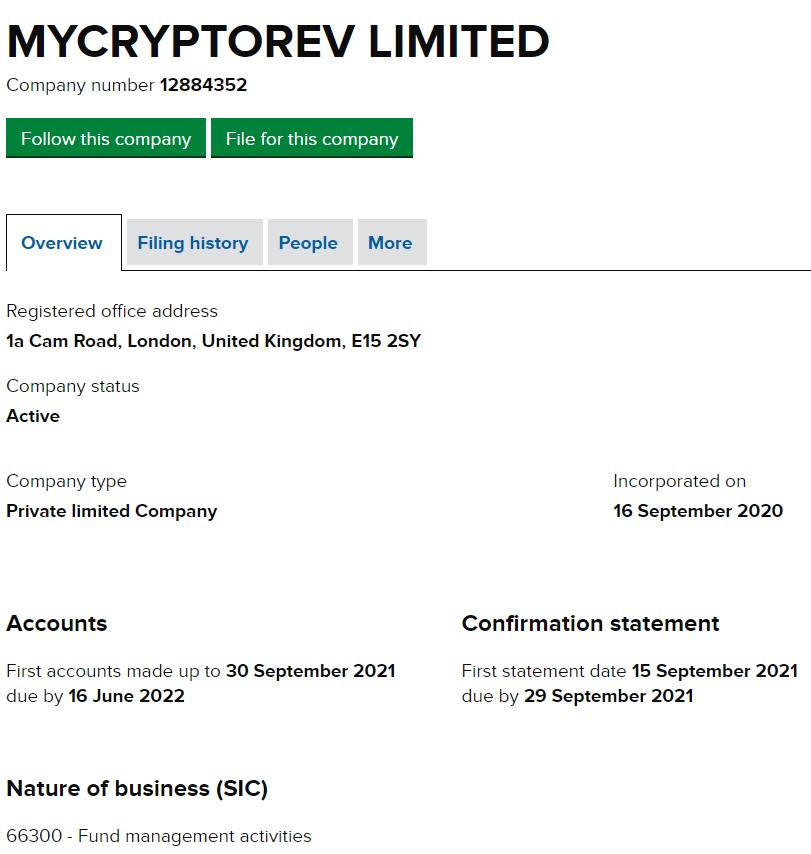 What is My Crypto Rev?
They describe themselves as the following:
My Crypto Rev is an organization comprising of trading experts and the most sophisticated cryptocurrency trading tools to provide higher returns on a daily basis to all our investors. My Crypto Rev's high-tech trading system allows returns to be obtained from crypto assets by finding optimum dips and pips to trade at the right time. Our headquarters are located in London while the representative offices are in the USA, Hong Kong, South Africa, DRC and various other countries.
Anyway, that's all I got on the company, let's take a look at the products next inside of this MyCryptoRev review…
My Crypto Rev Reviews (Products)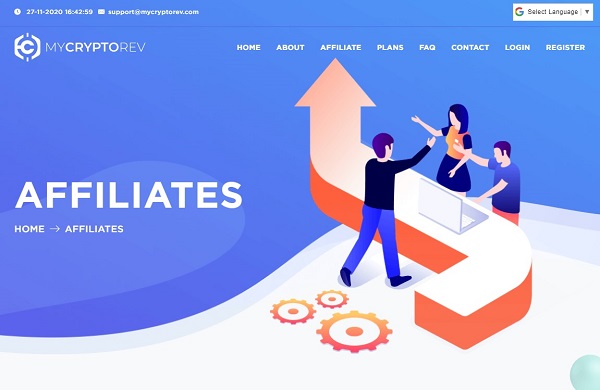 When it comes to retail products or services, My Crypto Rev doesn't have anything going for itself.
All you can do is become an affiliate and promote the affiliate membership.
Once you do become an affiliate, you can promote the actual affiliate membership.
From there you can invest as well…
My Crypto Rev Compensation Plan
My Crypto Rev has members invest in investment plans on a promise they will get a daily return.
Gold – invest $100 to $10,000 to receive 2.5% Daily for 150 days ($1,000 cap)
Platinum – invest $10,001 to $50,000 to receive 3.25% Daily for 175days ($6,000 cap)
VIP – invest $50,001 to $100,000 to receive 4% Daily for 200 days ($12,000 cap)
Affiliate Program
You can earn 12% on your personally sponsored affiliates funds they have invested.
This is their direct commissions.
Residual commissions are paid through a binary compensation plan structure.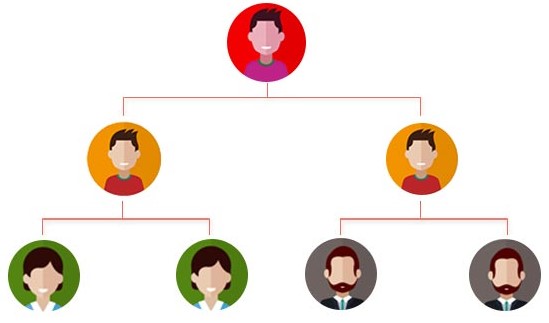 These positions can be filled directly or indirectly by team members.
My Crypto Rev adds up all the investment's on both legs each day and pays you 10% on the lesser leg.
Any left over volume is carried over.
They don't go in great details on what is the minimum to trigger a commission volume wise.
Cost To Join MyCryptoRev
The affiliate membership is actually free, but you must invest at least $100 to be part of their investment opportunity.
Unlike all the other My Crypto Rev reviews out there I am going to tell you the truth in the verdict…
Final Verdict
So does the My Crypto Rev scam exist?
Well let's look at the straight facts here…
The company offers no retail products or services and considering they mention the USA as one of their locations, the FTC might look into this…
The ownership is NOT transparent about themselves because Conner Robert doesn't exist outside this company and everything just looks like an act.
They claim their external revenue is through trading, but there is no proof of this happening.
You can SAY what you want, but you actually have to prove it.
Plus if you think about it logically, 4% daily over 200 days?
That's a 800% return on investment…
If they had that ability legally, they wouldn't need investments.
Plus they would have registered with the SEC because again they mention USA as one of their locations.
They are NOT registered with the SEC to sell securities…
Yikes..
Anyway I can't recommend this company it's clearly a ponzi scheme…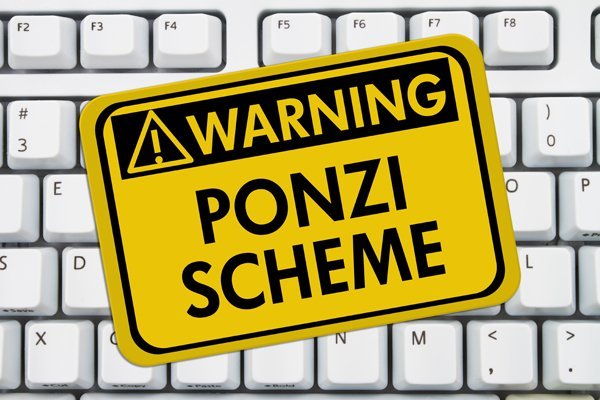 Anyway, I hope you enjoyed my My Crypto Rev review and if you have any questions feel free to comment below…
Now before you go…
If you want to learn how you can take ANY business and scale it to your dreams and goals?
Partner up with me by clicking the banner below: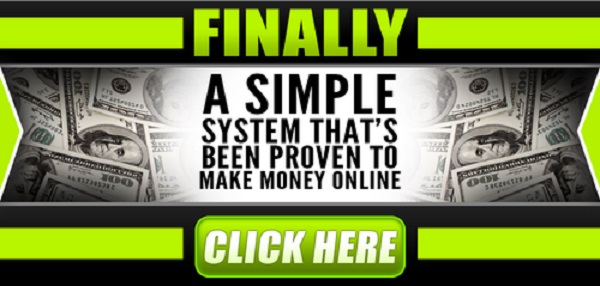 We will show you EXACTLY how to build a business online and customize a plan just for you.
We will help you choose a nice, setup your online business and offers that you can promote.
You can even use a network marketing company if you wish to the sky is the limit.
On top of that you will get ONE on ONE mentoring to make sure you are doing things right.
Follow me on Social media below:
Subscribe To My YouTube Channel Here.
See you at the top,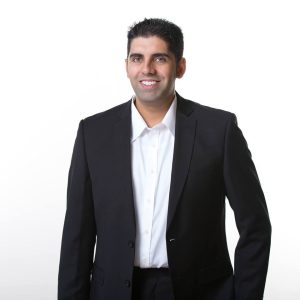 -Jesse Singh
P.S.  If you are tired of failing ANY business, click here and check this out to take your game to the next level.