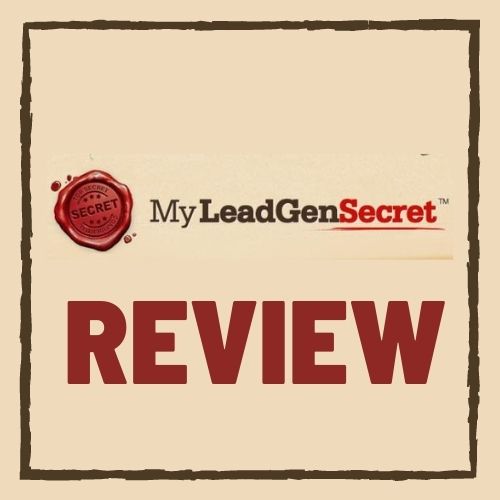 My Lead Gen Secret Review – (2023) Does This Actually Work? PROOF INSIDE!
Welcome to My Lead Gen Secret Review!
There has been a lot of buzz about this traffic source and I decided to investigate what it's all about.
Chances are someone approached you about this traffic source and showed you how easy and great it is and now you landed here to make sure it's legit.
The good news is I am going to walk you through everything I know about them so you can make the right decision to join or not.
Because this program was very inexpensive, I did actually test this out for myself.
So it's not one of those My Lead Gen Secret reviews where it's speculation.
I will share my results and show you the income I made so far…
What Is My Lead Gen Secret Review 2023

My Lead Gen Secret is a lead generation service that provide business opportunity leads so you can email them affiliate offers to earn commissions.
The CEO and President behind the company is Jim Harmon who has run large advertising campaigns for top marketers like Frank Kern, Tai Lopez and Tim Ferris, just to name a few.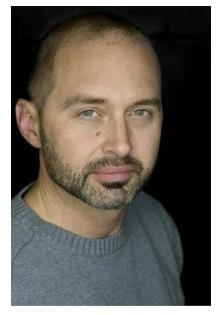 For more information on how the leads are generated, click here to watch this.
Once you optin for this lead gen service, you will be given 100 leads per day which you can email using their back office (easy to use).
Now if you refer one person into the program, you can get 200 leads a day.
Like I said earlier, I tested this myself and here is the picture of the mailing system where you can send emails to these buyer leads.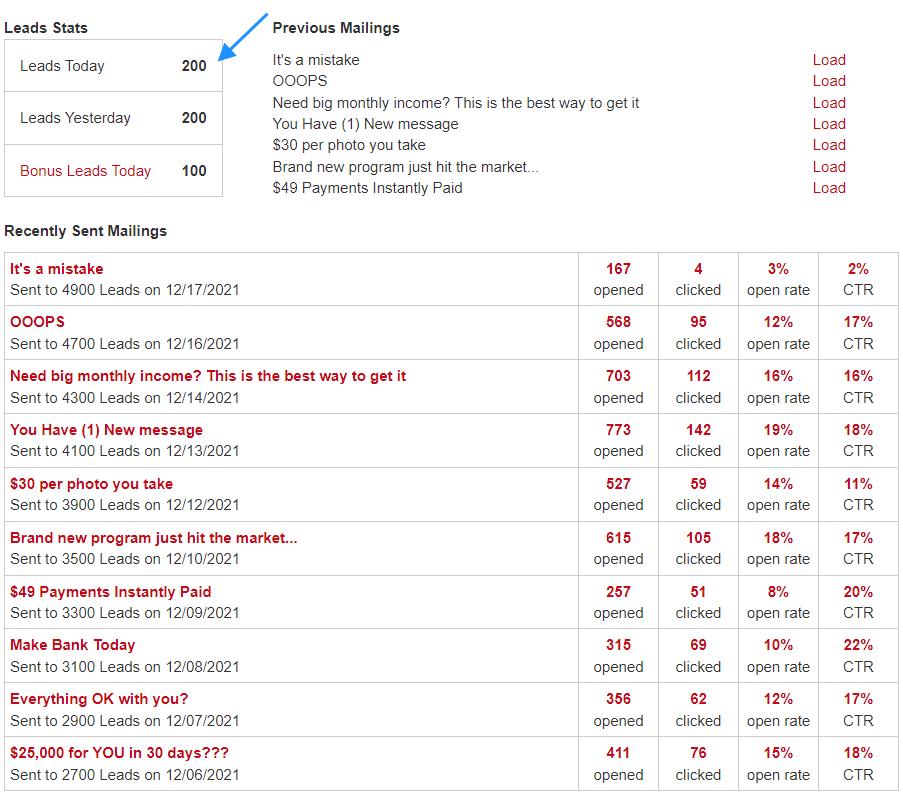 Later in this blog post, you can watch a video where I will give you a step by step training on how to utilize this.
Trust me, it's actually very easy…so keep reading.
How To Make Money With MyLeadGenSecret
My Lead Gen Secret has two ways you can make money with them.
First way is to send emails to the buyer leads with their mailing system affiliates offers from marketplaces like ClickBank which is free to join (more on this later).
Second way is for you to refer new members into this lead gen service and you can earn a commission.
Related Articles:
Multiple Income Funnel Review – Does This Work?
My Lead Gen Secret Compensation Plan
My Lead Gen System pays their affiliate commissions through a unilevel compensation plan structure.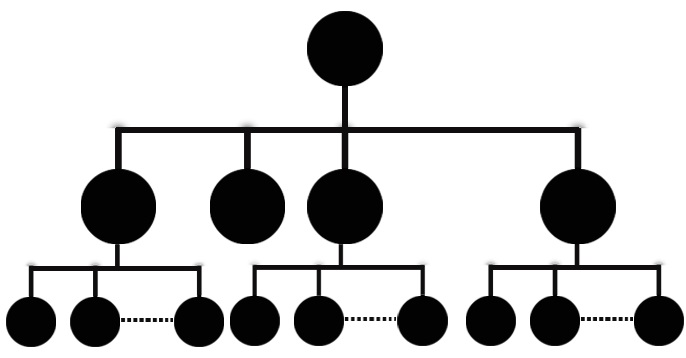 MyLeadGenSecret pays their commissions down give levels deep and a flat rate.
Level 1 – $5/month (personally sponsored affiliates)
Level 2 – $4/month
Level 3 – $3/month
Level 4 – $2/month
Level 5 – $1/month
Weekly SuperStar Bonus Content
MLGS will give you a $100 bonus each week by referring 5 confirmed membership sales within a 7 day contest period.
For every 5 people you refer that pay, you can earn $100 bonus.
If you sponsor 25 people within a week, that's $500 bonus.
How To Double Your Leads
If you want to go from getting 100 leads per day to 200 leads per day all you have to do is refer one person.
I personally sponsored myself a second account to get that because how in expensive it was to get started.
More on that later…
Cost To Join MLGS Review
The cost to joining My Lead Gen Secret will be $60 your first month and $30 per month after that.
What you get for that is 100 leads/day builds a list of 3,000 people in 30 days.
This is the reason I got two accounts for myself so one account is getting 200 emails per day which is 6,000 per month the other 3,000.
So I am paying $60 per month for 9,000 emails per month which is dirt cheap.
If you compare this to Facebook Ads or Solo Ads, it's a steal.
For Solo ads you can pay anywhere between $1 to $2 per lead.
So even if we use the $1 example, 9,000 emails a month would cost $9,000.
You see where I am getting at?
They do have an OTO where they offer you 30 emails personally written by Jim Harmon and they are actually very well written.
Now you don't really need that because I am going to show you later on how to leverage ClickBank and their offers email swipes.
Just being real with you…
If you want to learn how they get these leads for so cheap, click here for more info.
Why Did Get Started With My Lead Gen Secret Reviews
The main reason why I got started with My Lead Gen Secret was to see if it actually works.
I am not talking about recruiting new members into the company, but if the actual LEADS bought anything.
Face it, if the leads were crap, why would I want to even promote the thing?
Plus the compensation plan isn't that powerful…
I wanted to test the leads and see if I could earn commissions from other offers.
So far in December (when I started), I have made the following in ClickBank (free marketplace):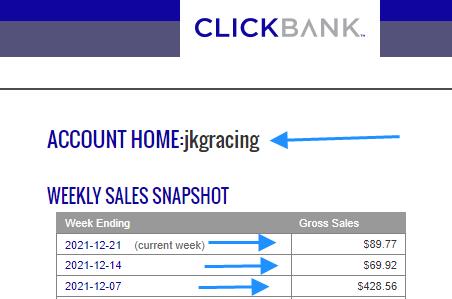 This is 17 days in December starting from 100 leads a day which one of the accounts turned to 200 leads a day.
Right now I am getting a total of 300 leads per day.
Alright so as you can see I made $588.25 from ClickBank, I actually made another $100 from another affiliate network but let's just stick with this…
My total cost was $120 this month (two memberships $60 each but $30 per month going forward each).
My expenses going forward will be $30 per month x 2 (two accounts.
So 17 days in December, I have profited $468.25 from ClickBank alone…
Yes I know that isn't MASSIVE, but I just got started lol.
Plus the larger your email list gets over 3, 6, 12 months, the more clicks you can send to those offers which means the more money you will get.
So this is going to start snow balling and I can't see why this can't be a $5,000 per month ClickBank alone income stream 6 to 12 months from now.
Like I said earlier, I had no interest in promoting but because of those results and how easy it is to use, I would do a disservice if I don't.
So many people can use some extra money right now because of the pandemic and this won't break the bank.
It's cheaper than your cell phone bill…
Obviously I can't guarantee any kind of income because that's illegal Lol.
I am just showing you my results and projections based on those results in the future.
Anyway…
Want a tutorial on how to actually use this system step by step?
Watch The Video Below and Get Started Here or click on the button below the video: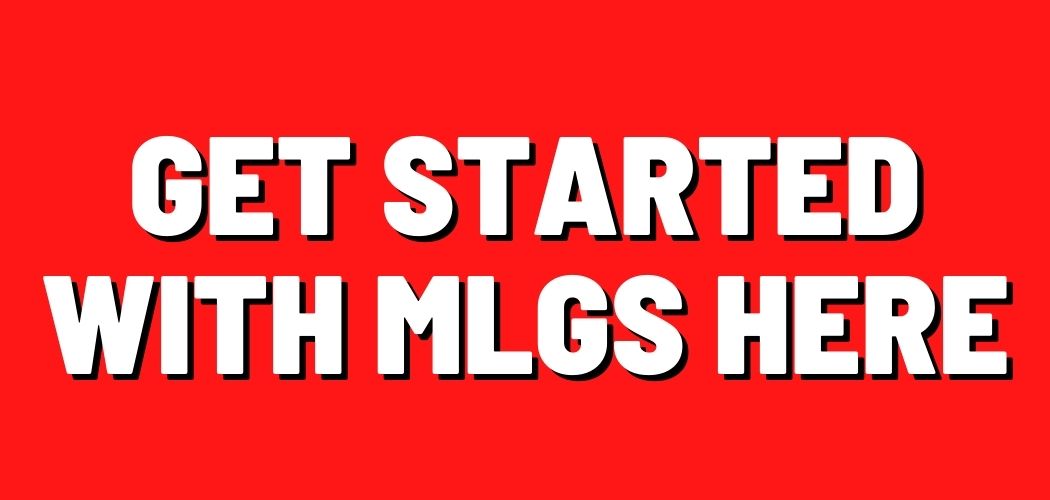 To use ClickBank, Click Here For Marketplace To Get Free Account.
The other offer that I used where I made $100 on top is converting a bit better, you can check that out here.
That offer also has email swipes you can copy and paste into My Lead Gen Secret.
So if anyone calls this the My Lead Gen Secret Scam, they have no idea what they are talking about and usually promote their bogus program that doesn't work.
Watch out for those type of My Lead Gen Secret reviews…
Anyway, I hope you enjoyed this MLGS review and if you have ANY questions, leave them in the comments below and I will get back to you!
Follow me on Social media below:
Subscribe To My YouTube Channel Here.
See you at the top,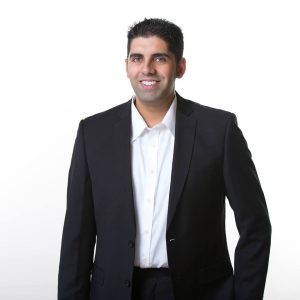 -Jesse Singh
P.S.  If you are tired of failing ANY business, click here and check this out to take your game to the next level.