Welcome to my Rostex Global Review!
There has been buzz about this latest crypto trading MLM company and I decided to take a closer look.
Chances are someone approached you about their 3% daily returns and now you landed here to make sure it's legit.
The good news is I am going to walk you through the company, products and compensation plan so you can make the right decision.
Just PAY close attention and read this to the end…
Rostex Global Review (Company)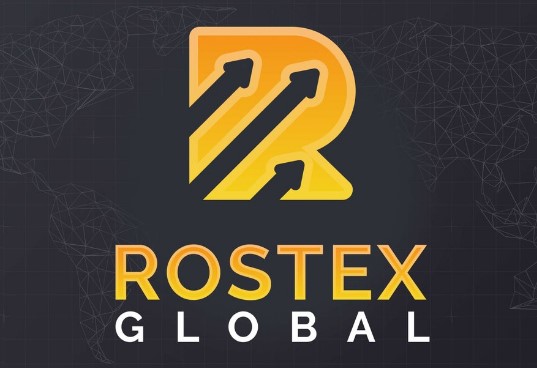 Rostex Global specializes in the crypto trading niche and claims it was first launched in 2015 in the UK.
The man in charge is CEO Gregor Douglas and is partnered by CTO Andrew Ross.
Both people don't exist outside the company after trying to dig deeper.
The strange thing the company is based out of the UK, but CEO Gregor Douglas sounds eastern European and Andrew Ross sounds like he is from Africa.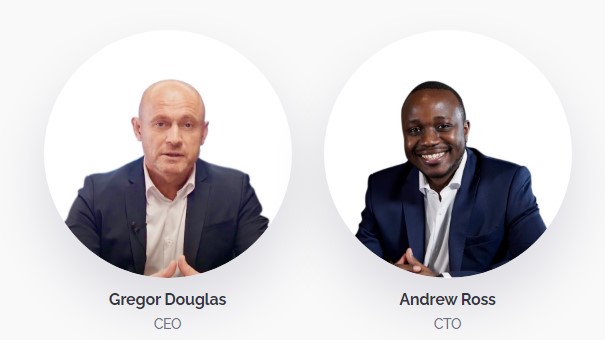 Both names don't match the avatar in my humble opinion.
I watched a marketing video where CTO Andrew Ross was explaining the business, and he was reading off a script and didn't look natural at all.
Shifty eyes is real in this video…
Not to mention terrible editing job…
Both Gregor Douglas and Andrew Ross just have a Telegram and WhatsApp.
Now let's look into this whole they "first launched in 2015 in the UK" part shall we?
Let's take a look at the website domain "Rostex.Global".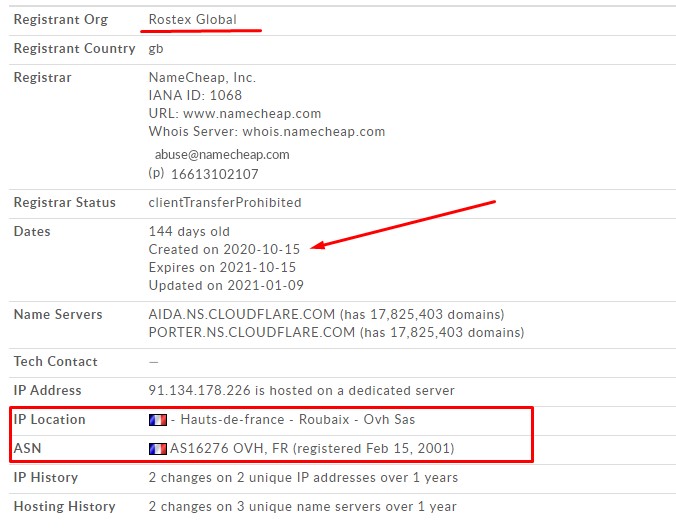 The domain was FIRST registered on October 15th, 2020.
Also note even though this suppose to be a UK company, why are the IP Location and ASN in France?
Rostex Global does have UK Incorporation papers showing that they were incorporated on October 27th, 2020.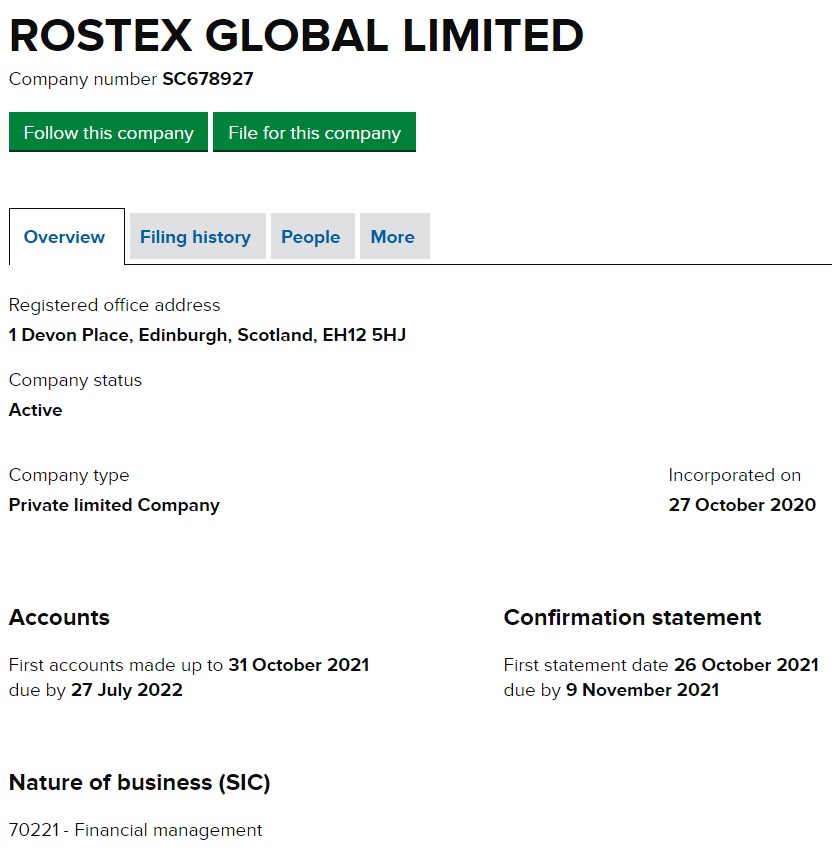 Now that's strange, I thought they exist back in 2015?

Also when I checked out the UK Incorporated under people, the CTO Andrew Ross wasn't listed there just Gregor Douglas.
In my humble opinion, it looks like the people who are playing CEO and the CTO are just actors because they don't even have a digital footprint.
Looks like it's Wiseling and Beurax all over again…
Update:  People at Scam Alert Team just showed me that Gregor Douglas passport is photoshopped.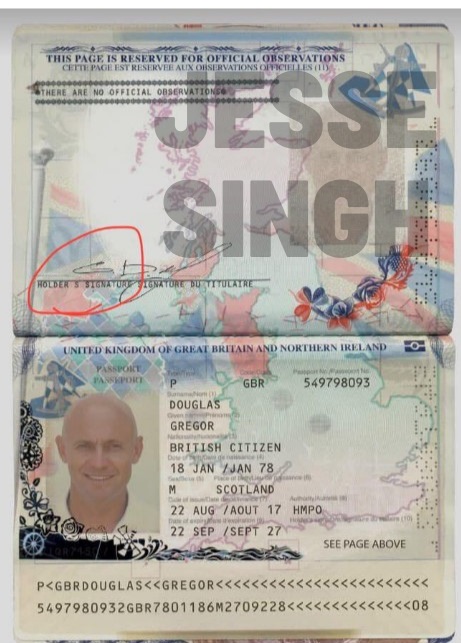 Where it says "Holders Signature" you will see the "S" is completely separated from "HOLDER".
After Scam Alert Team compared it to a UK passport, it's completely off.
I will have to give them credit for finding this information out.
Or maybe it will change the further we get into this review…
Rostex Global Reviews (Products)
When it comes to retail products or services, Rostex Global has nothing for sale.
All you can do is become an affiliate and promote their affiliate membership.
They do claim they trade Monday to Friday and produce returns in a range.
Rostex Global Compensation Plan
Rostex Global has affiliates invest funds into the company on a promise they will get some kind of return.
There are 3 types of deposit plans available:
Standard
Professional
Diamond
Below is the details of each plan:
Standard Package – Min deposit $50, Max deposit $10,000, Deposit term 18 to 58 days, Daily Profit 0.80% to 1.90%
Professional – Min $50, Max deposit $500,000, Deposit term 190 days, Daily Profit 1.20% to 3.20%
Diamond USD – Min $10, Max deposit $1000,000, Deposit Term 100 days, Daily Profit 3% to 3.30%.
Commissions are paid as a percentage through a unilevel compensation plan that pays 12 levels deep.
The number of levels you get paid will depend on how much your downline turns over.
To get started, you must at least invest $50 to earn MLM commissions.
Beginner – Turn over zero, 6% level 1, 3% level 2, 2% level 3, 1% level 4, 1% level 5
Beginner 1 – Turn over $20,000, 6% level 1, 3% level 2, 2% level 3, 1% level 4, 1% level 5, 0.5% level 6, 0.5% level 7
Beginner 2 – Turn over $100,000, 7% level 1, 4% level 2, 2% level 3, 2% level 4, 1% level 5, 1% level 6, 1% level 7, 1% level 8, 0.5% level 9
Advisor – Turn over $300,000, 8% level 1, 4% level 2, 2% level 3, 2% level 4, 1% level 5, 1% level 6, 1% level 7, 1% level 8, 0.5% level 9, 0.5% level 10
Advisor – Turn over $500,000, 9% level 1, 4% level 2, 3% level 3, 2% level 4, 1% level 5, 1% level 6, 1% level 7, 1% level 8, 0.5% level 9, 0.5% level 10, 0.5% level 11, 0.5% level 12
They also have a PRO referral program that includes Advisor 2, Mentor , Mentor 1, Mentor 2, and Leader.
You must turn anywhere between $800,000 to $20,000,000.
Commissions are paid down 40 levels depending on which rank you are above.
Commissions go from 15% on the high end down to 0.2%.
Cost To Joining Rostex Global
Cost to join the Rostex Global affiliate membership is actually free, but if you want to be part of the investment opportunity and earn in the compensation plan you must invest at least $50.
Unlike all the other Rostex Global reviews out there I am going to reveal the truth in the verdict so pay close attention…
Final Verdict
So does the Rostex Global scam exist?
Well let's look at the facts…
The CEO Gregor Douglas and CTO Andrew Ross don't exist outside this company.
They have no digital footprint.
Looks like the real admin(s) hired these actors to play these roles which is getting more and more common in this space.
Another huge lie was the fact they claim to existed back in 2015.
There is no evidence or proof of any of that…
In fact, Rostex Global didn't even exist until late 2020.
Plus these crazy returns have no proof of actual external revenue coming into the company to make them happen.
If you think about it logically, it doesn't even make sense they have an affiliate program and investors if they could legally produce those returns..
Up to 3.3% daily ROI?
Why do you need any investors…
You could take a small bank loan and crush this…
Anyway, the truth is new investments are paying off existing members hence why they need people constantly recruiting.
Because this is a ponzi scheme, majority of the people will lose out big once this company pulls and exit scam.
It's never if….
It's WHEN it pulls an exit scam.
Anyway, I hope you enjoyed my Rostex Global review and if you have any questions feel free to ask in the comments below…
Now before you go…
If you want to learn how you can take ANY business and scale it to your dreams and goals?
Partner up with me by clicking the banner below: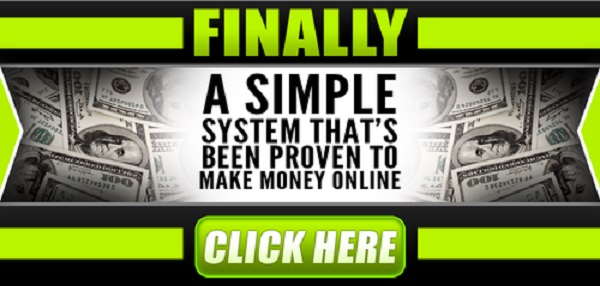 We will show you EXACTLY how to build a business online and customize a plan just for you.
We will help you choose a nice, setup your online business and offers that you can promote.
You can even use a network marketing company if you wish to the sky is the limit.
On top of that you will get ONE on ONE mentoring to make sure you are doing things right.
Follow me on Social media below:
Subscribe To My YouTube Channel Here.
See you at the top,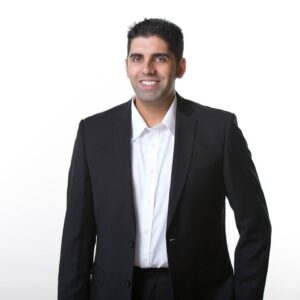 -Jesse Singh
P.S.  If you are tired of failing ANY business, click here and check this out to take your game to the next level.