Welcome to my Universal Abundance Review!
There has been some buzz about this MLM company and I decided to take a look to see what it was all about.
Chances are someone approached you about their products or their business opportunity and you landed here to make sure it's legit.
The good news is I am going to walk you through the company, products and compensation plan with the information I have so you can make the right decision.
This company is really new so information was hard to get…
What is Universal Abundance

Universal Abundance personal development, health and wealth MLM company that touches on all of those aspects through their training videos that you can purchase.
Universal Abundance Review
Universal Abundance didn't have much information on their website "universalabundance.co" but I did find it mainly on YouTube with a few zoom calls they made.
It looks like the man behind the company is Noel Strane who has been an affiliate for Legal Shield and Neora (Nerium).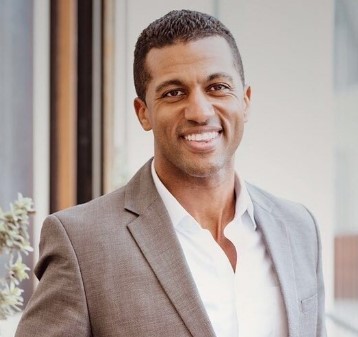 In other words, he does have network marketing experience.
When it comes to traffic sources and number of visitors to the website, there is no information at this time because they must have just launched.
Which makes sense considering their domain registration was updated on October 8th, 2020, but that doesn't mean if the website went live yet…
It seems to me the company launched somewhere in 2021 or traffic stats would have been available…
Right now their website homepage needs a lot of work, just looks like someone with no experience pieced it together…
Not to mention they should have all the information when it comes to the company, products and compensation plan on there instead of having to look around YouTube for it.
The Universal Abundance

Products
Universal Abundance has members purchase their subscription which unlocks set of videos that range from personal development to travel.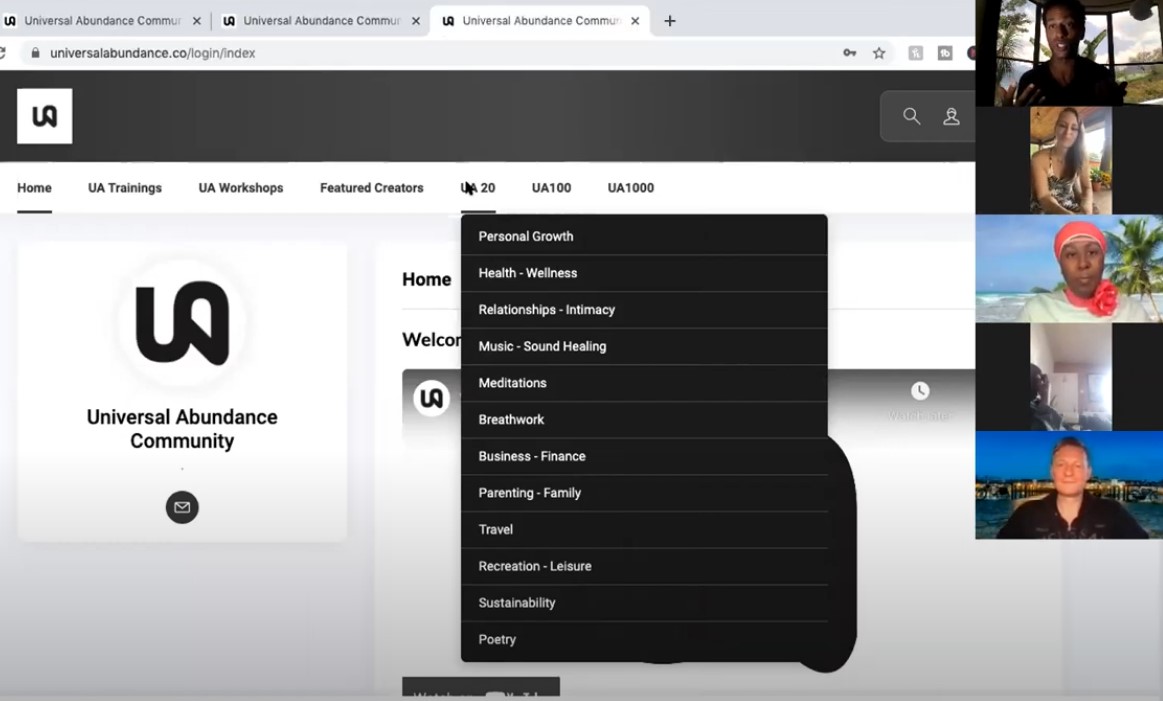 I haven't watched the videos because I don't have a subscription but that is a very broad amount of topics…
If I were them I would focus on just a few and make them amazing before spreading yourself thin everywhere else…
The image above is just for the UA20 membership, they have two more…
Memberships you can purchase are the following:
UA 20 Basic membership – $20.00 USD per month
UA 100 Advanced membership – $100.00 USD per month
UA 1000 Mastery membership – $1000.00 USD per month
You can earn commissions on those which I will get into next…
Universal Abundance

Compensation Plan
The information on the compensation plan was found on YouTube again and not the actual website.
Commissions are paid through a two tier compensation plan.
Level 1 – 50% commissions
Level 2 – 25% commissions
Below is an example of the UA 20 plan commission payout: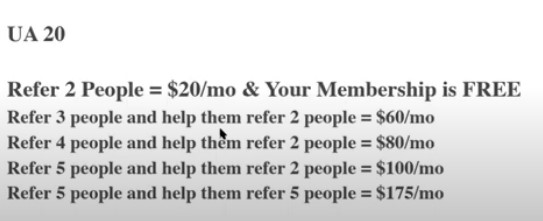 More information can be found in this YouTube video.
Universal Abundance

Scam or Legit?
So does the Universal Abundance scam exist?
Well let's just look at the facts…
The website needs way more work to help with transparency and creditability.
When it comes to their products/services, they need to separate them from affiliates to be compliant.
For example, if you are an affiliate you shouldn't be required to be active with a membership.
You should be able to promote the subscriptions.
Once you get into the territory of having to own the subscriptions to earn commissions on them, the FTC could be knocking on the door if this company gets big enough.
So far great concept, but they need to execute better.
Universal Abundance

 Review / Recommendation
If you landed on this blog, you want to actually know how to make money online right?
I know this world in this space is plagued with scams and it's my duty to help people to see the truth behind the legit VS scams.
If you are sick and tired of jumping opportunity to opportunity just find out it was a scam and want to build something real for the long haul…

Remember to follow me on social media below because I am actually real and want to serve you.
I hope you enjoyed my Universal Abundance review and if you have any questions feel free to ask in the comments below…
Follow me on Social media below:
Subscribe To My YouTube Channel Here.
See you at the top,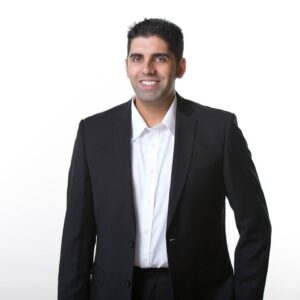 -Jesse Singh
P.S.  If you are tired of failing ANY business, click here and check this out to take your game to the next level.