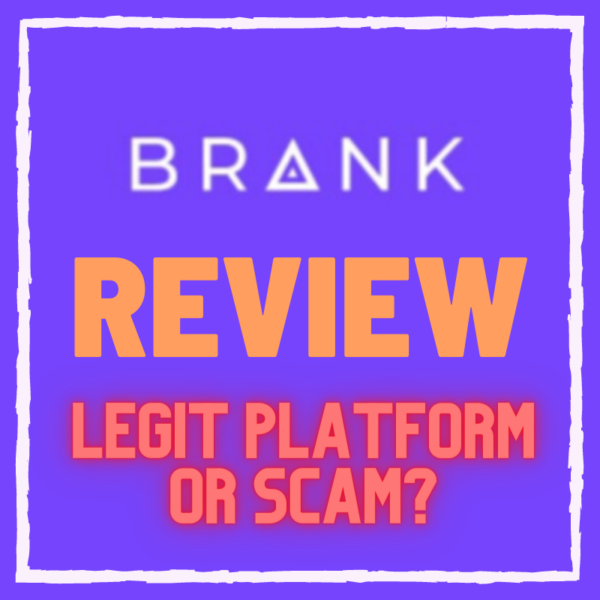 Brank Review – Legit Ad Credit MLM or Huge Ponzi Scam?
Welcome to my Brank Review!
There has been some buzz about this company so I decided to take a closer look.
Chances are someone approached you about the business opportunity or adcredit ROI potential and you landed here to make sure it's legit.
The good news is I am going to walk you through the company, products and compensation plans so you can make the right decision.
Just PAY close attention and read this Brank MLM review to the end…
Brank Review (MLM Company)

Brank has no information on who runs or owns the company on their website.
I decided to take look at the domain "brank.io"
It looks like it was first registered on August 2nd, 2019 and then updated on June 26th, 2020.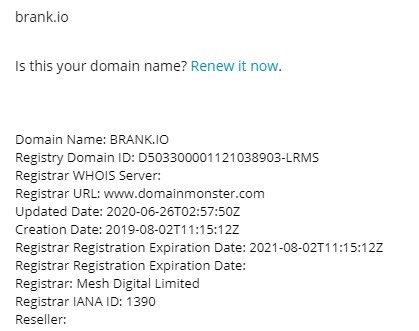 I did find a Linkedin Profile that belongs to Branks and has Daniel Noormohamed as the company's owner.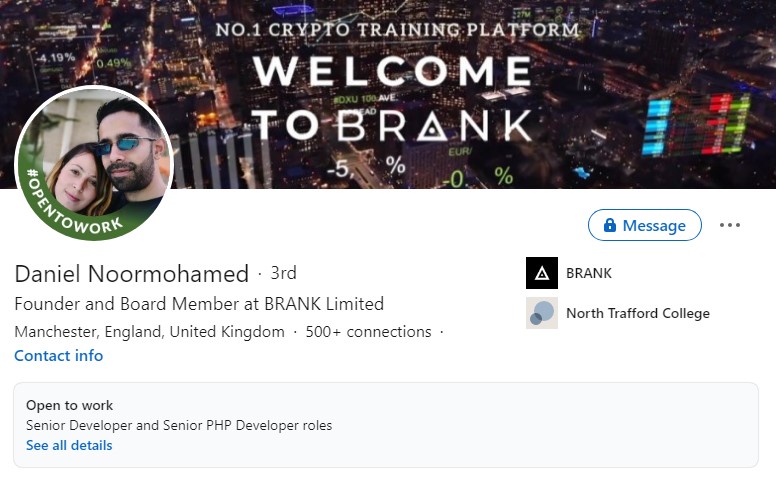 Also note under experience, it says he is the "Founder & Board member" and shows the date November 2019 to Present.
So we can safely assume that is the date when Brank came into existence.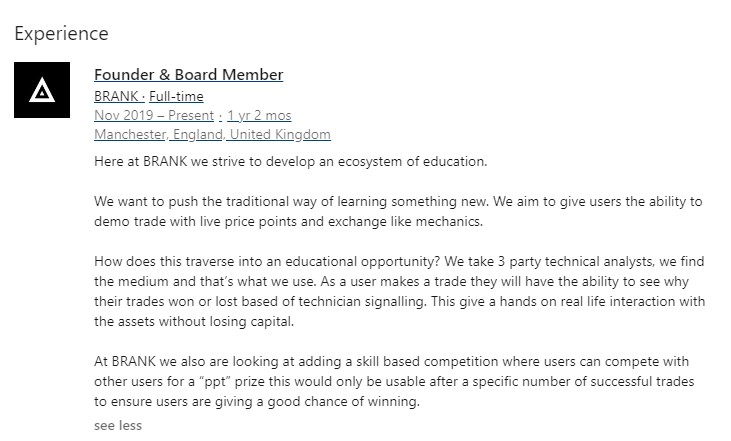 Prior to Brank, Daniel Noormohamed was the Senior PHP Consultant.
Supporting the Template based system for any downtime and/or amendments. Looking after the usage behind two major clients of ITG both Genting and Marstons. The responsibilities is to ensure its consistent uptime, support and make amendments in order to supplement its functionality.
If you really look back in experience you will notice it's all computer software related.
As of right now most of the traffic coming into Brank is coming from the USA even though the company is based out of Manchester in the UK.
I did find a UK incorporation certificate that lists Brank Limited (company number 12210738).
It was formed on September 17th, 2019.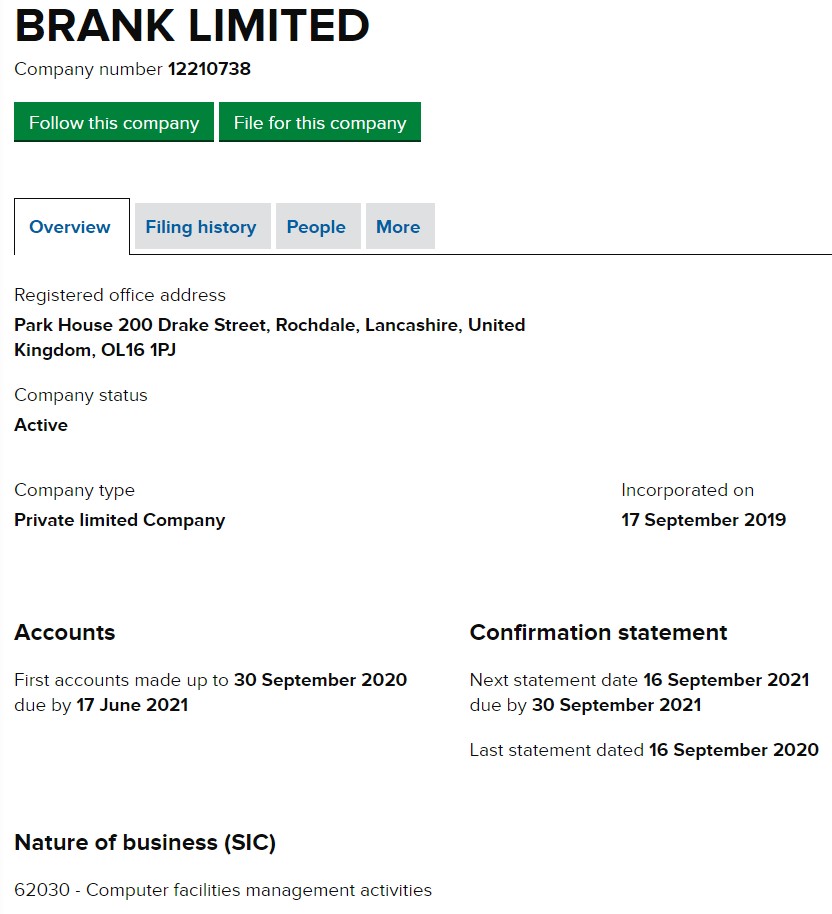 To further confirm Daniel Noormohamed is indeed the founder/director, he was listed under "people".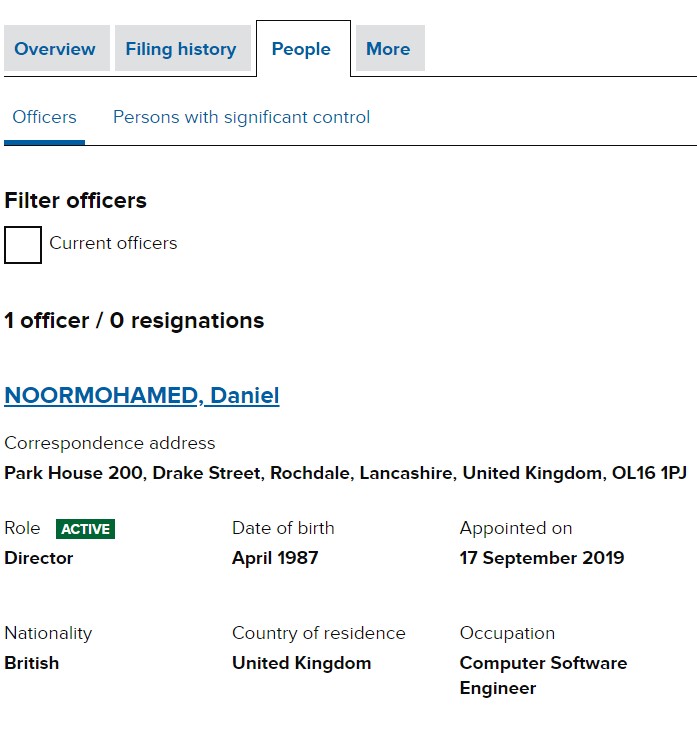 Now finally, I wanted to take a look at their address…
When I typed in "Park House 200, Drake Street, Rochdale, Lancashire, United Kingdom, OL16 1PJ" and it belonged to six different companies in the same building: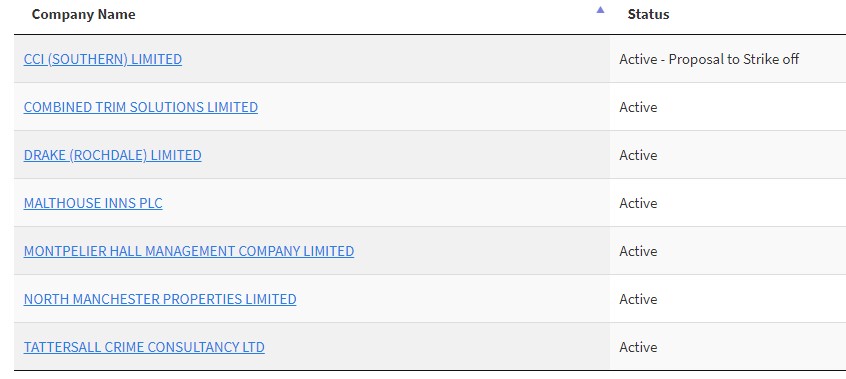 Interesting Brank Limited isn't listed…
Why no "About Us" page and company history beats me…
Wouldn't that help with credibility?
The fact I had to look around doesn't make them look good in the transparency department.
Plus what is up with their address?
Did they list a fake one?
Brank Reviews (Products)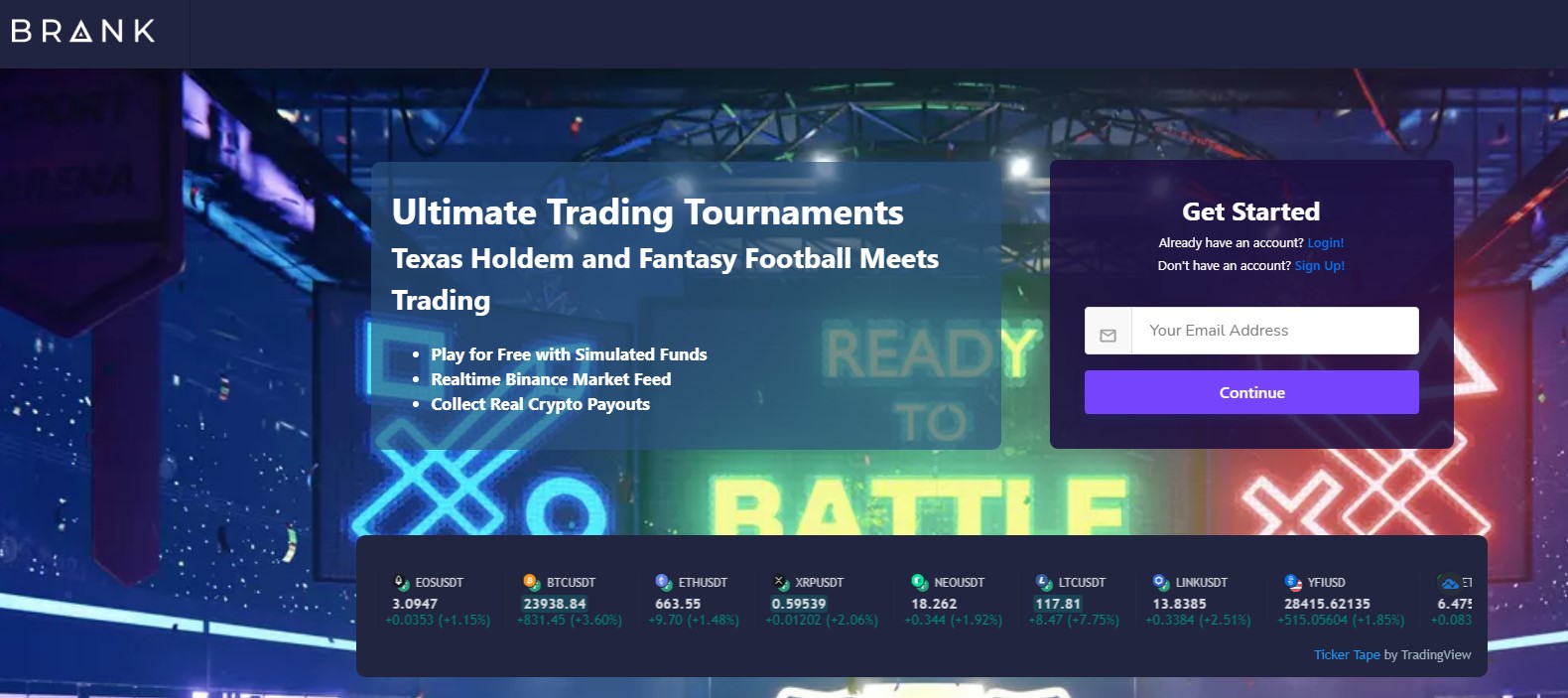 When it comes to retail products or services, you can't buy any as a customer.
You must first become an affiliate to get access to the back office.
From there you can sponsor other people and invest in tokens…
Other MLM companies that don't have retail going are BitLocity and Profit Connect.
Brank Compensation Plan
Brank has affiliate invest anywhere between $6.50 to $6,500 in Brank Token's which are sold for $1.30 each paid in ethereum.
From there, Brank Token investors can get a weekly ROI paid in credits.
The name of the game here is the more tokens you have, the higher the weekly credit ROI.
You can withdraw credits based on the internal value through Brank's internal exchange which they set…
On top of that, you can sponsor people into the company and earn commissions.
Brank Affiliate Commissions
Branks pays you affiliate commissions through a unilevel compensation plan structure.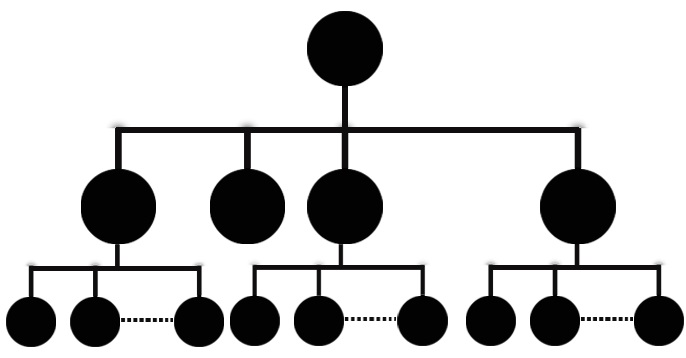 Brank caps their unilevel at seven levels in total.
Referral commissions are paid as a percentage on the invested funds and tied to your token investment balance:
have 0 to 249 tokens in your wallet and receive 1% on level 1 (personally recruited affiliates), 0.5% on levels 2 and 3 and 0.2% on levels 4 to 7
have 250 to 499 tokens in your wallet and receive 2.5% on level 1, 1.5% on level 2, 1% on level 3 and 0.5% on levels 4 to 7
have 500 to 999 tokens in your wallet and receive 5% on level 1, 3% on level 2, 2% on level 3, 1.5% on level 4, 1.25% on level 5, 0.75% on level 6 and 0.5% on level 7
have 1000 to 4999 tokens in your wallet and receive 8% on level 1, 5% on level 2, 2.5% on level 3, 2% on level 4, 1.5% on level 5 and 1% on levels 6 and 7
have 5000 or more tokens in your wallet and receive 10% on level 1, 6% on level 2, 4% on level 3, 3 on level 4, 2.5% on level 5, 1.5% on level 6 and 1% on level 7
When they are calculating referral commissions, the internal value of the tokens is dropped to $1.00 compared to $1.30 when you are investing.
Another thing you need to know is the referral commissions are paid 80% in credits and 20% in tokens…
Trading Tournament Commissions
Brank has many different trading tournaments affiliates can join in at.
Each tournament has it's own token cost entry point.
If you enter any of these tournaments and someone in your downline wins credits in the same tournament, you can get a commission in credits:
5% if the winning affiliate is on the first level of your unilevel team
3% if the winning affiliate is on the second level of your unilevel team
2% if the winning affiliate is on the third level of your unilevel team
Again, 80% are paid in credits and 20% in tokens.
Cost To Join Brank
Brank affiliate membership seems to be free in what I gathered.
To be part of the MLM income opportunity, you must invest anywhere between $6.50 to $6,500 in tokens.
Unlike all the other Brank reviews out there I am going to keep it real…
PAY close attention.
Final Verdict
When Brank first hit the marketplace, it was more about being a trading platform.
Ever wondered what it's like to trade crypto. With BRANK your able to do just that.

We can analyse your portfolio, we can help you to make those right decisions based on your portfolio trends.

Some may ask, how do we know which coins to look at and how to actually understand how this works.

One of the options is BRANK Premium this allows you to get 1 to 1 time with crypto traders/analysts who are able to help you through the whole learning process.
It obviously didn't gain any traction so it was rebooted as an investment opportunity where new members are paying for existing members (ponzi scheme).[1]
The whole gaming side seems to be a front now…
Basically you can earn credits by taking part in Brank's tournaments.
Token's are needed to enter the trading tournaments which can be anywhere between 1 to 100 tokens a pop.
Brank tournaments are virtual in nature with play money.
Every tournament has a set run time and the winner is picked on who makes the most money through virtual trading.
Winning isn't guaranteed and I can see some people just hold onto the tokens and collect weekly ROI credits.
The more tokens you have, the more you can make weekly.
When more and more affiliates invest, the higher the internal exchange will get to a point…
Because most of the traffic coming into Brank is from the USA, they should register with the SEC…
They are offering a type of securities…
Also, registrations need to be made in the UK and ANY other country Brank is involved with.
Anyway as the company sits, I can't recommend it…
I hope you enjoyed my Brank review and if you have any questions, feel free to ask in the comments below…
Now before you go…
If you want to learn how you can take ANY business and scale it to your dreams and goals?
Partner up with me by clicking the banner below: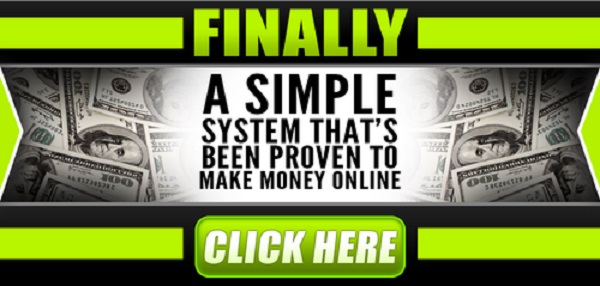 We will show you EXACTLY how to build a business online and customize a plan just for you WITH ONE ON ONE mentoring.
We will help you choose a niche, setup your online business and offers that you can promote.
You can even use a network marketing, ad agency, an existing small business and brick and mortar store that just wants to scale.
On top of that you will get ONE on ONE mentoring to make sure you are doing things right.
Follow me on Social media below:
Subscribe To My YouTube Channel Here.
See you at the top,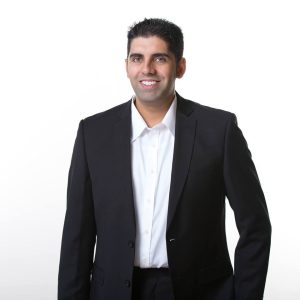 -Jesse Singh
P.S.  If you are tired of failing ANY business, click here and check this out to take your game to the next level.