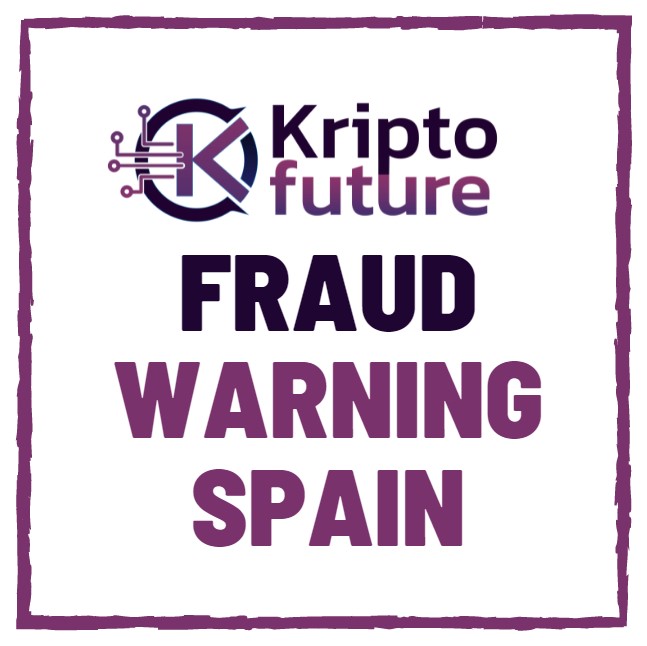 Kripto Future Hit With Securities Fraud Warning In Spain
Kripto Future is one of the latest cryptocurrency MLM companies to launch and recently on June 28th, 2021, got hit by a securities fraud warning by CNMV.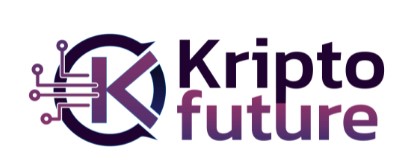 The CNMW (Comision Nacional del Mercado de Valores) is the securities regulator in Spain.
Below is the warning letter: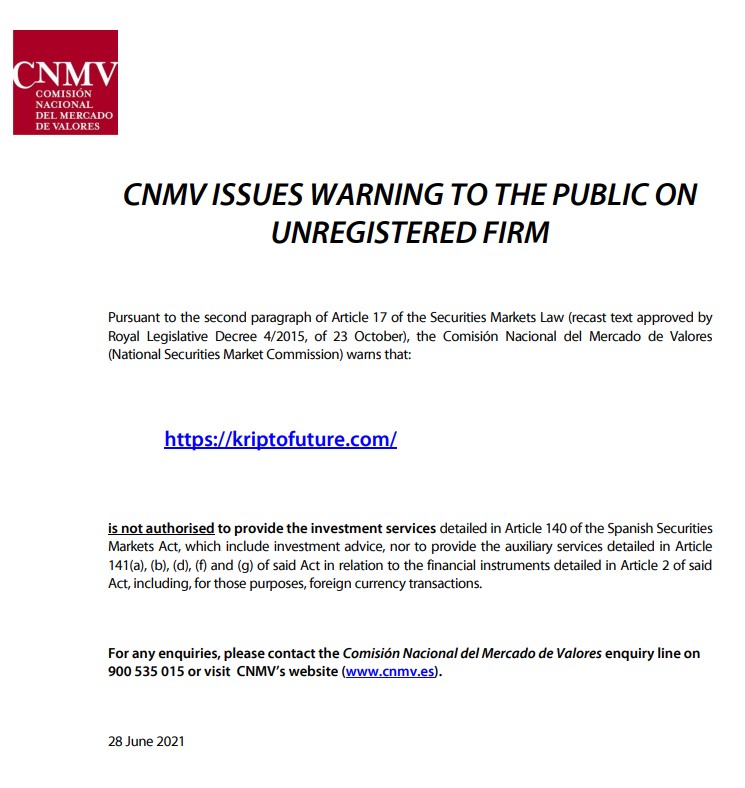 This warning letter can be found on the CNMV's website..
CNMV ISSUES WARNING TO THE PUBLIC ON UNREGISTERED FIRM

Pursuant to the second paragraph of Article 17 of the Securities Markets Law (recast text approved by Royal Legislative Decree 4/2015, of 23 October), the Comisión Nacional del Mercado de Valores (National Securities Market Commission) warns that:

http://kriptofuture.com

is not authorised to provide the investment services detailed in Article 140 of the Spanish Securities Markets Act, which include investment advice, nor to provide the auxiliary services detailed in Article 141(a), (b), (d), (f) and (g) of said Act in relation to the financial instruments detailed in Article 2 of said Act, including, for those purposes, foreign currency transactions. For any enquiries, please contact the Comisión Nacional del Mercado de Valores enquiry line on 900 535 015 or visit CNMV's website (www.cnmv.es).
In my Kripto Future review, I did call out this company to be a ponzi scheme because I couldn't verify any external revenue coming into the company other than new investments paying off existing members.
Like anything that promises any kind of returns, the business or entity must be registered with a financial regulator in the country they operate in.
The company is apparently based out of the UK, but everything about the company points to Dubai.
Regardless of where it is, Spain is the first country to issue a fraud warning again Kripto Future.
Jeffer Ribera, the co-founder, surprisingly only speaks Spanish and wonder if he is from Spain.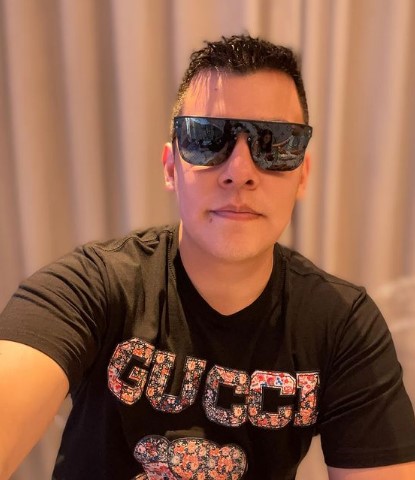 The other co-founders Ryan Wright and Tommy Lewis are only found on presentations.
I personally don't think they are real people.
Anyway, I have a feeling this is not going to be the last securities fraud warning issued to Kripto Future.
The more hype it gains, the more attention other countries will start paying attention.
If they were running this company legally, they would simply just register with all of those financial regulators.
I will keep you posted to see what's going to happen next.

Tired of Scams?
If you landed on this blog, you want to actually know how to make money online right?
When it comes to crypto, one thing you need is CASHFLOW so you can invest in more legit cryptocurrencies and getting another job isn't the best way to do that…
If you want to learn how you can increase your cash flow without trading your time for money…

Once you learn this skill set, the sky is the limit when it comes to cash flow.
From there you can invest in appreciating assets and build long term wealth.
Remember to follow me on social media below because I am actually real and want to serve you.
Follow me on Social media below:
Subscribe To My YouTube Channel Here.
See you at the top,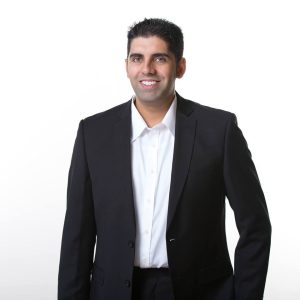 -Jesse Singh
P.S.  If you are tired of failing ANY business, click here and check this out to take your game to the next level.