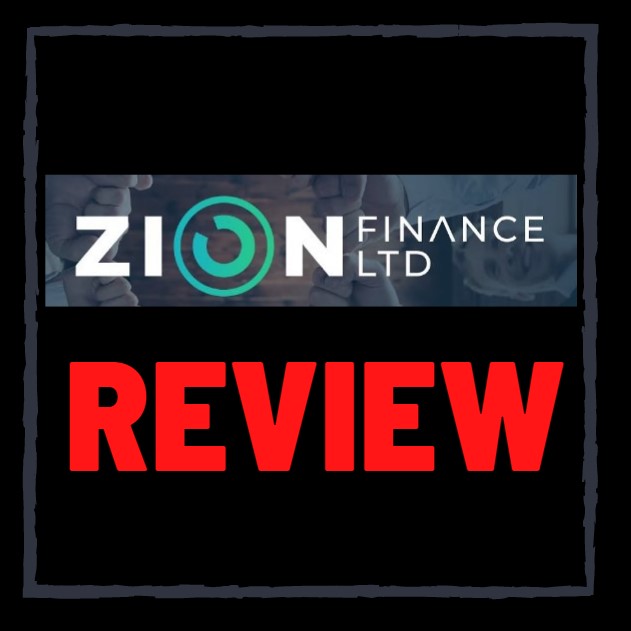 Zion Finance Review – Legit 0.5% Daily ROI Biz or Scam? Find Out!
Welcome to my Zion Finance Review!
There has been some buzz about this company and I decided to take a closer look.
Chances are someone approached you on social media or you landed on a review which was done by an affiliate and you just wanted to know about this without the bias right?
The good news is I am not an affiliate and I am going to walk you through everything I know about this company.
Just make sure you pay close attention and read this to the end…
What Is Zion Finance LTD Review

Zion Finance LTD claims to be a financial and credit organization that provides financial services to legal entities and individuals.
They work with money, securities, precious metals and provide loans to legal entities and invest in projects.
Their full list of external revenue come from:
Financial and credit activities
Cryptocurrencies
Venture Investment
Securities Transaction
Previous Metals
Commercial Properties
Who Owns Zion Finance LTD Review?
When looking at the information on who runs or owns this company there is no information about them.
They do have a UK Incorporation which was done on June 8th, 2018.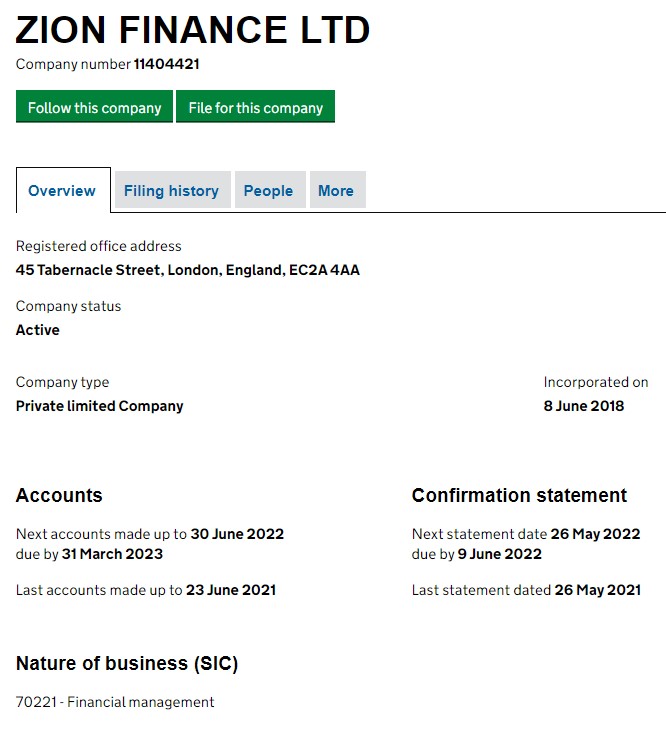 The director listed for the company is Dave Donski.
I did find some Dave Donski's out there, but none of them work with Zion Finance.
The domain name "Zion-Finance.com" was privately registered on May 30th, 2018 and was updated on July 25th, 2021.
I had to confirm to see when Zion Finance's website actually launch by checking out WayBack Machine and 2018 does check out…
I will be honest, companies in this space usually have some kind of obvious flaw to show that they are a scam, but Zion Finance did a pretty good job.
Now, I was going to stop my research right there, but something really stood out to me…
The word "Securities transactions".
It's one of the things they offer…
In order to offer ANY kind of securities you must be registered with the FCA in the UK.
That is where I went next…
I searched for Zion Finance LTD and  something did pop up…
But it wasn't for the same company.
The company that popped up was Zion Specialist Finance LTD which has a different address and website "www.zionsf.co.uk".
The reason why this Zion Finance LTD lasted for so long is because of their lower returns and very small compensation plan pay out which I will get into later.
So their YouTube channel didn't launch until August 17th, 2020…
Something is definitely fishy here…
What Are Zion Finance Products?
Like I mention earlier, Zion Finance offers investments to their clients and produce a guaranteed return.
You can also become an affiliate for the company and recruit people into the company that invest.
Other Reviews:
7K Metals Review – Legit Precious Metal MLM or Pyramid Scam?
LifeVantage Review – Legit Health MLM or Huge Scam? Not An Affiliate
Unicity Review – Legit Product Based MLM or SCAM
How To Make Money With Zion Finance LTD?
Zion Finance has two ways you can make money with the company.
First method is to invest into the company on a promise you will get a guaranteed return.
Second method is for you to recruit people into the company that invest and earn a commission.
On their website they don't list  their investment plans, but just talk about how you can make deposits into the company which can range from 1 to 12 month periods.
You can receive anywhere between 0.2% to 0.5% daily return.
Their affiliate program is just straight forward and pays out 3% commissions.
They call it a bonus, but it's a commission…
I think because their returns and commission payout being low, the company is still operating today…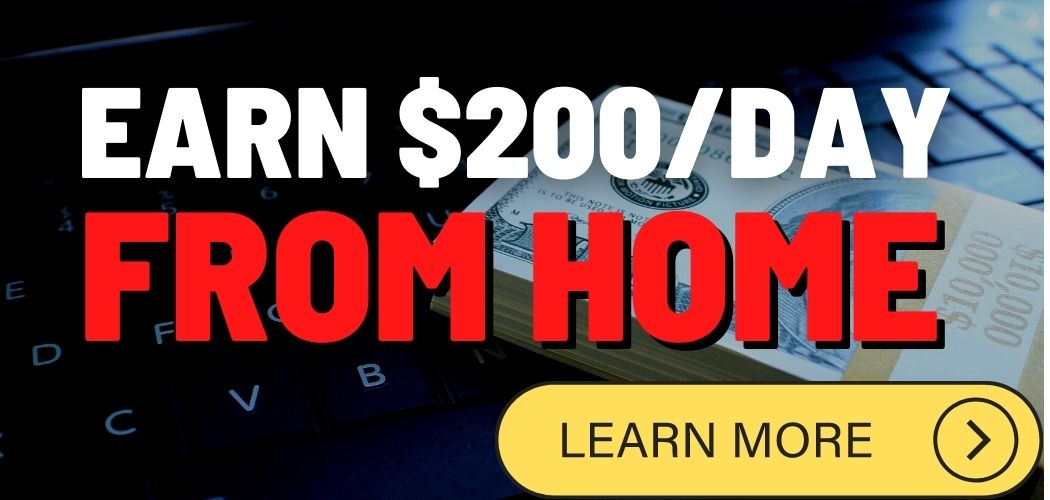 How Much Does It Cost To Join Zion-Finance.com?
The affiliate membership inside this company is free, but if you want to make money in their investments, you must drop at least $1…
Now I am assuming it's one dollar because they don't have a minimum amount.
What Are Other Zion Finance Reviews Saying?
I couldn't really find any negative Zion Finance reviews out there which is impressive.
Even on Trust Pilot, there are some negative ones but it's another website pretending to be Zion-Finance.Com.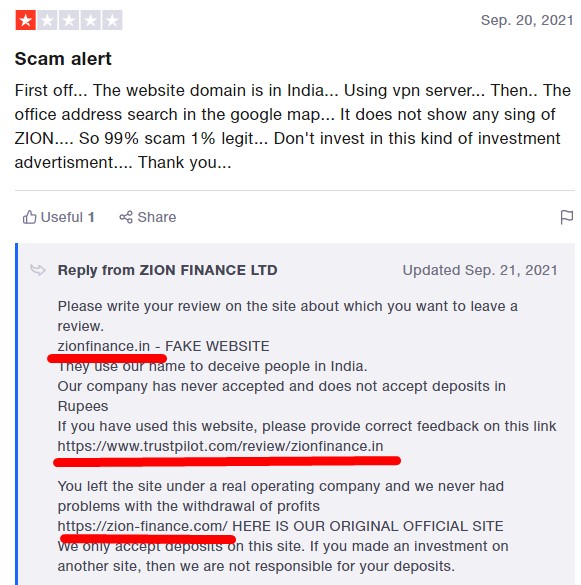 Final Verdict Should You Join?
Does the Zion Finance scam exist?
Let's just look at the facts…
The company did a great job covering their tracks when it comes to UK incorporations and the years they launched…
It all checked in…
Which is rare these days…
Zion Finance is paying out as we speak, but they do have one fatal flaw…
They are offering illegal securities…
In other words, just by that alone it is a scam…
Also I couldn't find any evidence of all the external revenue they mentioned.
Because I have reviewed companies like this so many times, the reason why they are still in business is simple…
Their daily returns are not very aggressive and their affiliate program is pretty weak at 3% referral commissions.
So they are keeping the vast majority of the money coming into the company.
End of the day, new investments are paying off existing members.
Once recruitment does slow down, the company will pull an exit scam.
Also, there is no mention of any of the leadership anywhere…
I don't personally joining nameless leadership companies would are not registered with a proper financial regulator when offering securities.
So yeah, it's a scam, but it's paying out…
However, this company can pull an exit scam when you least expect it so becareful.
Tired of Scams? My #1 Recommendation
If you landed on this blog, you want to actually know how to build a profitable business online right?
First time ever we are offering an business course that helps you build ANY business online including network marketing.
You are going to learn exactly how to drive your ideal customer to your website, collect their emails and convert them to buying customers without ever talking on the phone.

Once you learn this skill set, the sky is the limit when it comes to building your business and I have personally generated 6 and 7 figure businesses in different niches.
Plus, every single person gets a ONE on ONE advisor to make sure everything is being done properly.
I hope you enjoyed my Zion Finance review and if you have any questions feel free to ask in the comments below…
Follow me on Social media below:
Subscribe To My YouTube Channel Here.
See you at the top,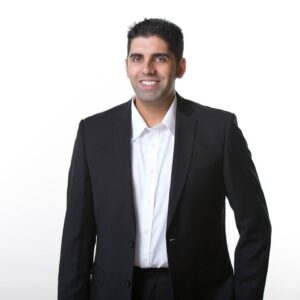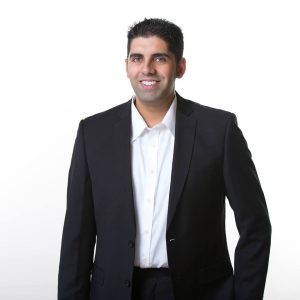 -Jesse Singh
P.S.  If you are tired of failing ANY business, click here and check this out to take your game to the next level.