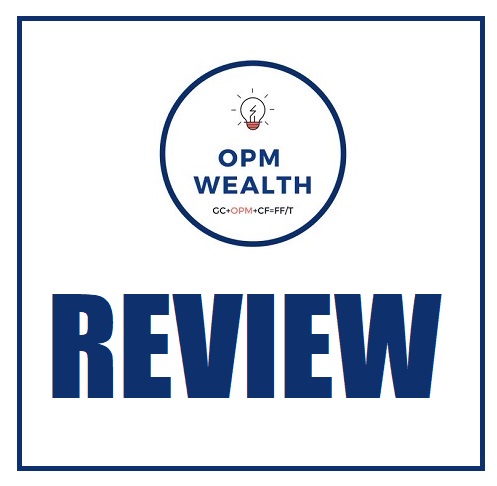 OPM Wealth Review – (2022) Legit Crypto Biz Op Or Pyramid Scam?
Welcome to my OPM Wealth review!
This is one of the latest business opportunities to hit the marketplace and I decided to take a look to see what it's all about.
Chances are someone approached you about this company and showed you how easy it's to make money with it right?
The good news is I am going to walk you through EXACTLY how this program works so you can make an informed decision.
Just PAY close attention and read this to the end…
What Is OPM Wealth?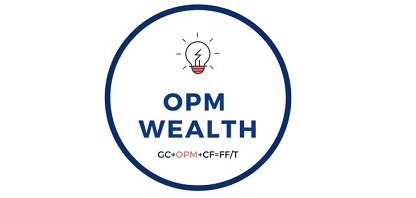 OPM Wealth is pretty much a brand new program aimed at making money by investing in pooled money.
If you take a look at the name "OPM Wealth", it just means "Other Peoples Money Wealth".
You get what I am saying right?
They use that as a name because OPM Wealth helps you use money collected from a group of subscribers to fund your investments allowing you to create an independent online business.
Think of the book "Rich Dad Poor Dad by Robert Kyosaki.
OPM Wealth is emulating Robert Kyosaki's lessons on investing.
Just so you know he isn't involved with this company.
Mr. Kyoski states that you can make money in two ways:
You can use your own money: Bootstrapping yourself will take longer to bear fruits and you require basic financial knowledge.
You can use other people's money: It is faster but you need to have advanced financial knowledge. Here money will work for you rather than having to work for it.
OPM Wealth borrows from the latter.
In this program you will learn the basics of trading in cryptocurrency as they insist on paying using cryptocurrencies.
That is linked to something called "the Plutus plan" which I will get into later so keep close attention…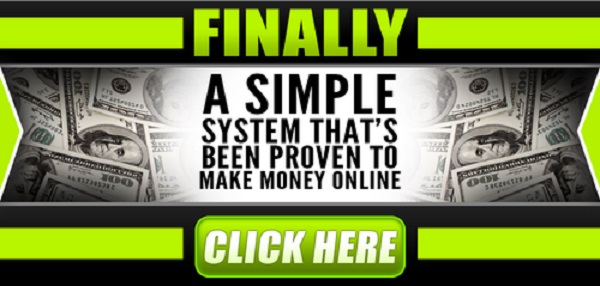 OPM Wealth Review (Company)
If you actually go on the website, there is no information on who runs or owns the company.
After checking out the program myself and going through some of the steps I believe Stefan Dessalines is the founder of the company.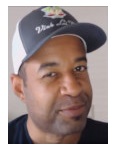 He could be partnered with other people, but he doesn't directly say this.
Before his online marketing career, he was involved in the film industry.
He started as a child actor who later became a film producer.
After that he decided to get into the mortgage industry where he worked for banks.
He decided to quit that and co-founded their own mortgage company with a friend.
This business was booming garnering over 80 million, but it all took a terrible downturn during the 2008 Financial Crisis.[1]
From there he transitioned to digital marketing.
OPM Wealth Products
When it comes to RETAIL products or services, OPM Wealth doesn't offer any.
For example, if I was an affiliate I can't just sell to a customer because the point of the program is for everyone to get involved and start promoting it.
You get started with a free account and use it to access 17 instructional videos in the member's area.
The first 3 videos you can watch for free, then you have to call a consultant to access the next 14 videos.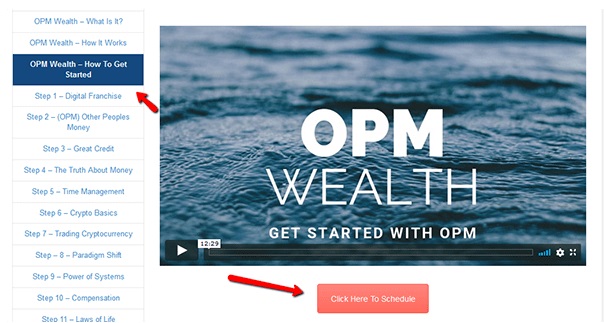 These videos will teach you how to use OPM Wealth.
One of the lessons actually teach you on increasing your credit score because you need good credit score to qualify for funding you need to, for instance, start an online business.
Check out my other MLM reviews like Green Compass and Cili By Design.
The Plutus Plan
This is a program within a program…
So OPM Wealth is the front end of the program where the Plutus plan is the backend resource center that gets into marketing campaigns and all other aspects of the program.
It's pretty much the main driver of everything.
How The Plutus Plan Works
In a nutshell, the Plutus Plan is an affiliate marketing program that pays you using cryptocurrency.
To be part of this program, you will have to choose a package which is named after Greek gods:
Hermes ($2000)
Apollo ($5000)
Athena ($8500)
Poseidon ($14500)
Zeus ($27500)
The packages can get pricey and this is why the company requires you to have a good credit score.
They want to leverages credit for you to get started.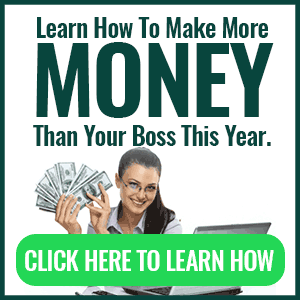 How To Make Money With OPM Wealth
The way you make money is to purchase a Plutus plan and promoting the affiliate offer to others.
Now if you decide to become a free member, you have to make five successful sales in order for you to qualify for commissions.
Where if you own the highest tier package, you can earn from the get go.
After that you can request a payout which is paid through one of the following cryptocurrencies, Etherium, Litecoin and Bitcoin.
Once you have chosen ONE of those cryptocurrencies, you will only get paid in that from then on.
OPM Wealth Compensation Plan
This company pays commissions through a unilevel compensation plan.
A unilevel compensation plan puts the affiliate at the top of a unilevel team structure, with every personally sponsored affiliate placed directly under them (level 1):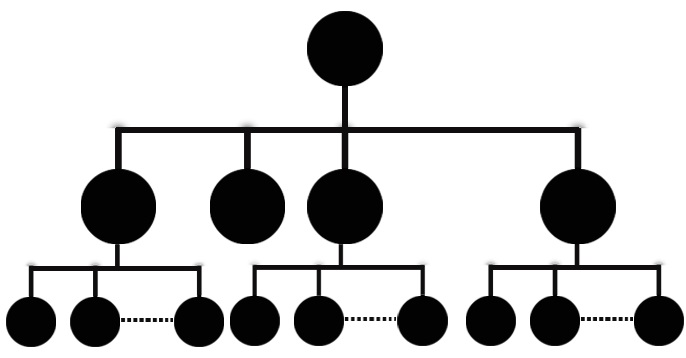 If any level 1 affiliates sponsor a new affiliate, they are put on level 2 of the original affiliate's unilevel team.
If any level 2 affiliates sponsor a new affiliates, they are put on level 3 and so on and so forth…
OPM Wealth caps their unilevel at two levels deep.
Below is the entire breakdown on everything:
For the an example to make things easier, I listed it by the NAME of the package, the cost to join and then commission rates.
Hermes – $2,000 – pays $1,200 commission on level 1 and $200 on level 2
Apollo – $5,000 – pays $3,000 commission on level 1 and $500 on level 2
Athena – $8,500 – pays $5,100 commission on level 1 and $850 on level 2
Poseidon – $14,500 – pays $8,700 commission on level 1 and $1,450 on level 2
Zeus – $27,500 – pays $16,500 commission on level 1 and $2,750 on level 2
Cost To Join OPM Wealth
You can become an affiliate for free and by making five sales you can qualify for commissions for their big tier packages.
I am not sure if you have to make five sales on each package or in total.
Now in order to get paid on the package from the get go, you must invest in one of the packages below:
Hermes ($2000)
Apollo ($5000)
Athena ($8500)
Poseidon ($14500)
Zeus ($27500)
Real difference between the packages is your income potential.
Now unlike all the other unbiased OPM Wealth reviews out there I am going to keep it real with you….
Pay close attention to the verdict…
Final Verdict
So does the OPM Wealth scam exist?
Well, let's look at the raw data here…
Plus I am going to back up everything with proper sources so I am not just making this up.
First let's look at the product part…
For any business opportunity/MLM company to be legit, they must offer products to retail customers.
This can be digital product or services or physical product or service.
OPM Wealth doesn't offer anything at the retail level.
Now let's take a look at the Federal Trade Commission website.
Here are some warning signs of a pyramid scheme:
Promoters make extravagant promises about your earning potential. Stop. Such promises are false.
Promoters emphasize recruiting new distributors for your sales network as the real way to make money. Walk away. In a legitimate MLM program, you should be able to make money just by selling the product.
Promoters play on your emotions or use high-pressure sales tactics, maybe saying you'll lose the opportunity if you don't act now and discouraging you from taking time to study the company. Leave by the nearest exit. Any company that tries to pressure you to join is one to avoid.
Distributors buy more products than they want to use or can resell, just to stay active in the company or to qualify for bonuses or other rewards. If you see this happening, keep your money.[1]
Now not everything applies to OPM Wealth, but let's look at a few of them.
Massive income claims, recruiting affiliates instead of selling to customers is the two I see here.
Plus not having anything for retail doesn't make this a legit business model in the FTC's eyes.
This company is based out of the USA, so the FTC could investigate this…
Plus they are getting people to take massive loans on a business model that isn't compliant…
Not only thing that burrowing anywhere between $2000 to $27,500 that you don't have is never a good idea when the business model isn't legit.
You see where I am getting at?
Sure you can make money here it's definitely possible.
However, it's more about do you really want to be part of something that is built on sand?
The company is only as strong as it's foundation…
Anyway because of that I personally can't recommend this company…
You can check out the guidelines of what the FTC considers legit here.
I hope you enjoyed my OPM Wealth Review and if you have any questions feel free to ask in the comments below!
Now if you want to LEARN the right skill sets on to build your OWN business where you don't have to rely on any particular company, click the banner below and gets started:

You will get ONE on ONE mentoring and a customized plan for YOU because everyone's journey is different.
Follow me on Social media below:
Subscribe To My YouTube Channel Here.
See you at the top,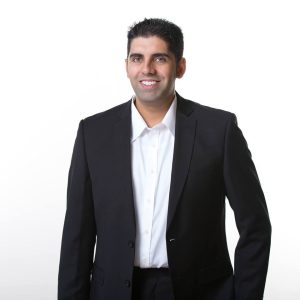 -Jesse Singh
P.S.  If you are tired of failing ANY business, click here and check this out to take your game to the next level.