On March 6th, Wiseling mysteriously went offline on their new website domain "wiseling.uk".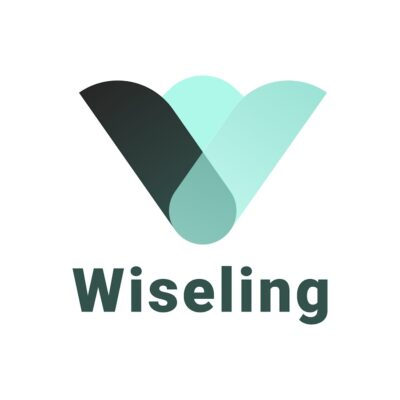 Looking at the original error, it looks like they never had any cloudflare protection before.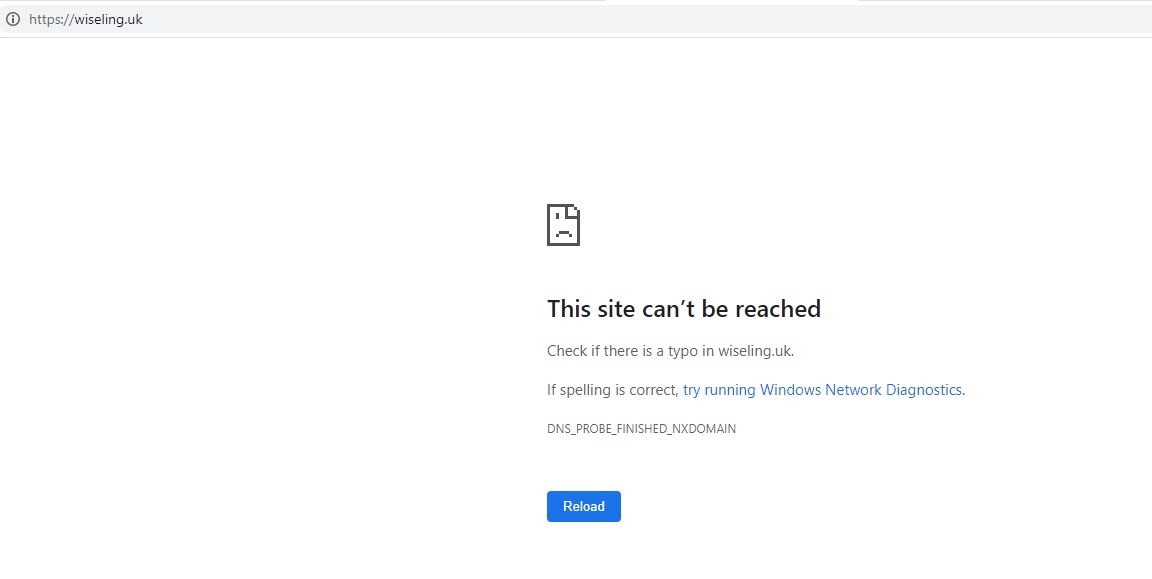 Why they switched to Wiseling.uk from Wiseling.com doesn't make any sense.
Also when Wiseling.com when down, they had cloudflare enabled which can stop any DDOS attack.

Why wasn't it installed on the new site isn't clear…
Now…
I kind of jumped the gun on this one saying that the website is gone for good.
Usually when a ponzi scheme just randomly goes offline, it's usually permanent.
It looks like Wiseling.UK is back this time with Cloudflare DDOS protection.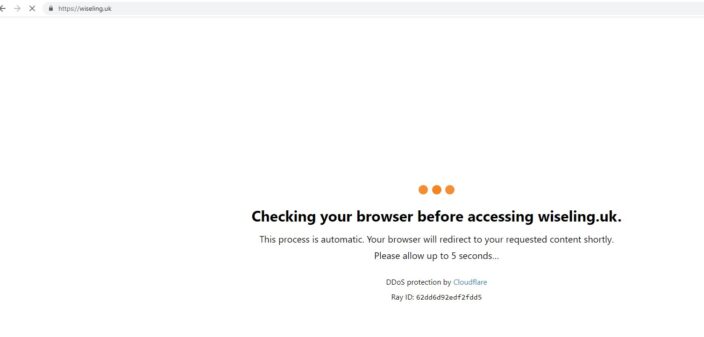 According to Wiseling's later announcement;
Dear Wiseling Members,

What happened to new wiseling.uk website server?

Recently, our subnet UK server which you joined was SQL injected by hackers who were trying to steal funds since they failed in DDOSING our server.

And also they also reported our Group and accounts.

So we had to Block all activities at the moment and fix this issue.  Our tech team will fix this problem and we will resume again.

Please note that some members were able to withdraw yesterday and we were able to process them before the issue started.

We are trying hard to provide all withdrawals but it seems some people are trying to bring Wiseling down at all cost.
First I highly doubt ANYONE is getting withdrawals because they don't a working merchant account and only a fake contract with the Finland Bank.
Wiseling's Telegram account "Wiseling Chat" also has been flagged at "Scam".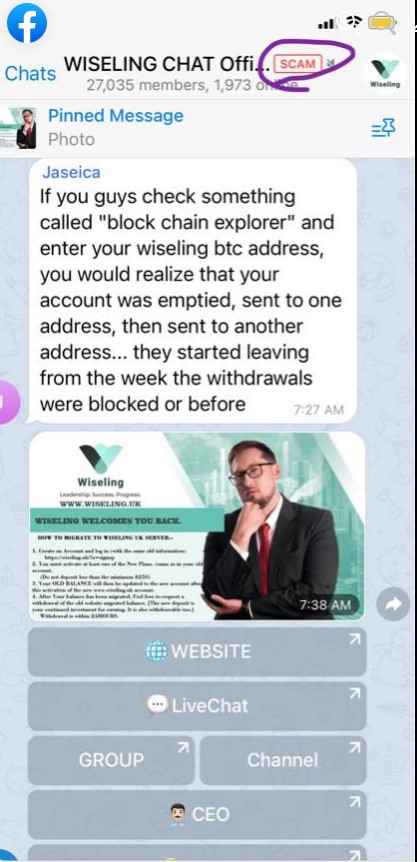 This was posted on Scam Alert Global's Facebook by A.B. Lobos.
They also have an answer to questions section Wiseling posted.
Why do we need to migrate?
Because we stopped all services on old website, you need to create an account on our main server "wiseling.uk" and make a new active deposit to a new plan.  But make sure you do not deposit less than $250.
The real question is WHY did they stop all services on the old website…
When Wiseling launched their new website, they wanted you to do the following to continue earning:
Create an account and login (with same old information) http://wiseling.uk/?a=signup
You must activate at least one of the New Plans. (same as in your old account) – Do not deposit less than minimum $250
Your OLD BALANCE will then be updated to new account after this activation of the new www.wiseling.uk account.
After your balance has been migrated, feel free to request a withdrawal of the old website migrated balance.  (The new deposit is your continued investment for earnings.  It is also withdrawable too).
This is their last attempt to lure more investors and finally exit scam for good.
Do NOT invest!
You will lose even more.
I will continue to cover Wiseling until they go offline for good…

Follow me on Social media below:
Subscribe To My YouTube Channel Here.
See you at the top,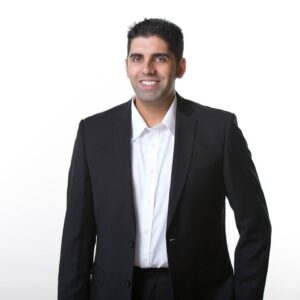 -Jesse Singh
P.S.  If you are tired of failing ANY business, click here and check this out to take your game to the next level.