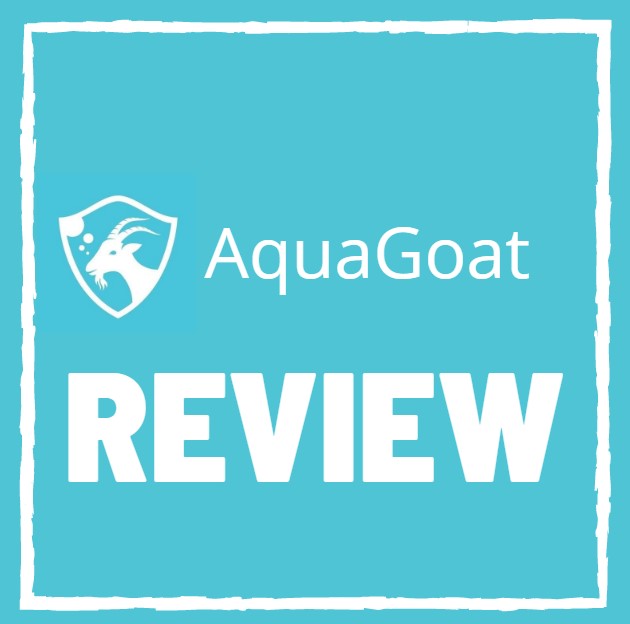 Aqua Goat Review – Legit Eco-Coin That Will 100X or Scam?
Welcome to my Aqua Goat review!
There has been some buzz about this latest cryptocurrency so I decided to take a look to see what it was all about.
Chances are someone approached you about this latest eco cryptocurrency coin and now you landed on this blog post to make sure it's legit.
The good news is I am going to walk you through everything I know so far so you can make the right decision.
Just pay close attention and read this to the end…
Aqua Goat Review

Aqua Goat was launched by an Australian developer on April 7th, 2021.
The actual name of this individual is unknown as of right now but Aqua Goat does list their team on their website.
Below is the list of names and their positions in the company.
Note:  for some reason they don't list their last name.
Patrick (Project Manager – CA)
Stephan (Project Manager – US)
Cody (Risk & Compliance – US)
Mariel (Marketing – CA)
Jhunehl (Charity and Outreach – CA)
Eddie (Marketing – BG)
Shahar (Outreach – US)
Now I couldn't verify these people because no social media accounts are linked.
If doing a Google search on the images gave me random results.
What is Aqua Goat?
AquaGoat is an eco-coin that has the mission on of finding people who will keep the ocean, rivers and waterways clean from all pollution.
AquaGoat is 100% community driven when it comes to projects to protect oceans.
What kind of token is AquaGoat exactly?
It's a yield-generating social cryptocurrency where members can their ecosystem can earn interest from network activities while the project itself benefits the planet through charitable partnerships.
If you want to compare another similar coin, take a look at my SafeMoon review here.
Is Aqua Goat Safe?
With all cryptocurrencies specially that are very new will always be a risk.
I do like the fact that Aqua Goat is for an actual social cause where it's focusing on keeping the environment clean.
Because of their auto locking liquidity and LIP Liquidity tokens, it's more on the safe side.
Aqua Goat Features
Auto-locking liquidity: With every transaction, a 2% fee automatically is added to the liquidity pool.
100% safe: LP Liquidity Tokens are fully burnt.
Means to earn money: 2% per trade is assigned to all holders.
Whale-deterrent: 1 BNB commencing liquidity. No whales. Only goats!
Token burn: 40% of all tokens flashed before operating live on Pancake Swap.
Aqua Goat Token Price, Supply and Marketcap
Price: <$0.00000001
Price Change: $0 25.05%
Diluted Market Cap: $24,716,266.18
Market Rank: #4868
Total Supply: 100,000,000,000,000,000 AQUAGOAT
Note:  This is changing constantly.
Below is as of May 14th, 2021: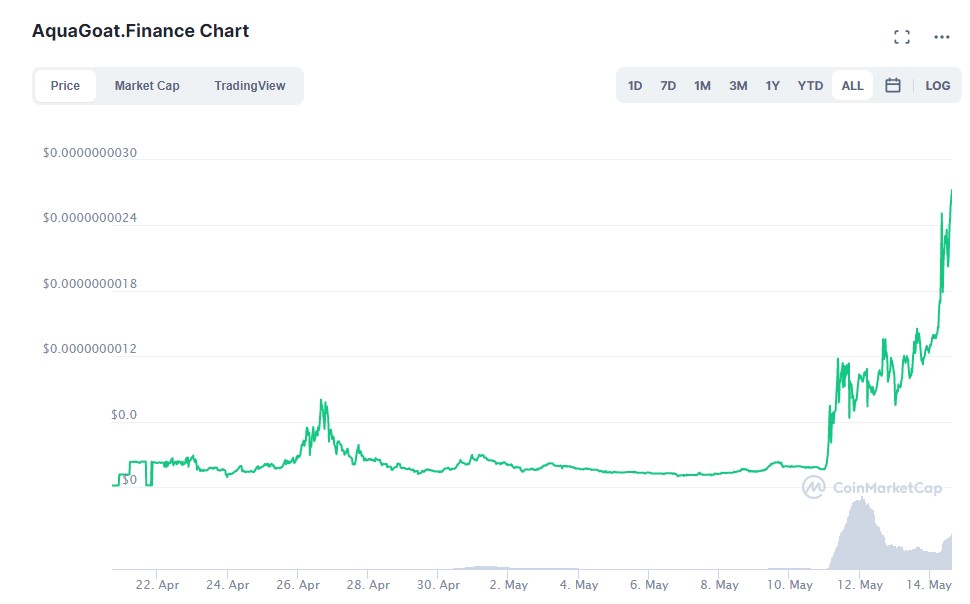 Look how much the price changed already: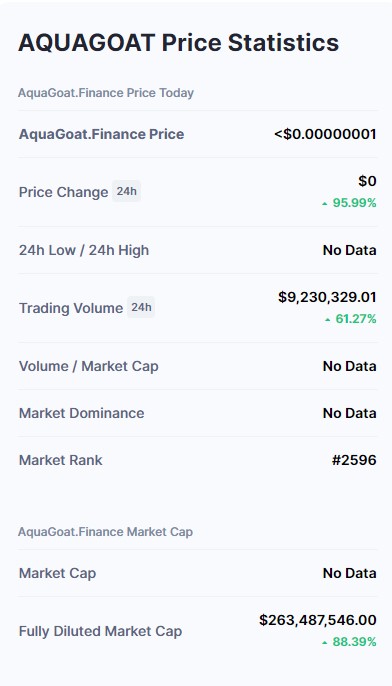 How To Buy AquaGoat Coin
Buying AquaGoat isn't difficult specially through Trust Wallet.
Step 1) Download TrustWallet from the App Store or Google Play Store.
Step 2) Set up your wallet (make sure to record your seed phrase and keep it in a safe place!) and purchase Smart Chain BNB using "Buy" option.
Step 3) Enable the TrustWallet dApp browser by typing trust://browser_enable in your mobile browser (this happens automatically on android devices)
Step 4) Head over to PancakeSwap in TrustWallet dApp browser make sure you "Click on Connect" on top right corner.
Step 5) Select the "To" field at the bottom then past the contract address in the "Select a token field.  Use this address: "0x0Fe3e956D2034BCEF01FbA8A2BfCA389cdb72699"
Note:  make sure to press (Add) to save AquaGoat in your tokens list.
Step 6) Adjust your slippage to 6% or more.  During heavy volume, it is advised to set your slippage higher.  If your slippage is too low, your gas will be spent with no transaction going through.
Step 7) Press "Max" or input however much BNB you would like to spend to swap to AquraGoat, then press Swap.
Make sure you have at least .01 BNB in your wallet as gas for transaction
Step 8) HODL, buy the dip!
Final Verdict
Overall I think AquaGoat isn't a scam, but like any new coin like this make sure you really believe in the cause behind them.
Also because this is new, I would consider this a very high risk coin.
If you are thinking about investing, I would never invest more than you can afford to lose.
I hope you enjoyed my Aqua Goat review and if you have any questions, feel free to ask in the comments below.
Now before you go, read the follow below…
Don't Get Scammed, Do This Instead…
If you landed on this blog, you want to actually know how to make money online right?
Maybe you want some extra cash flow so you can fund your investments in cryptocurrency, stocks, real estate etc.
I know this world in this space is plagued with scams and it's my duty to help people to see the truth behind the legit VS scams.
If you want a tried, tested and true method on creating more cash flow without trading time for money…

Remember to follow me on social media below because I am actually real and want to serve you.
Follow me on Social media below:
Subscribe To My YouTube Channel Here.
See you at the top,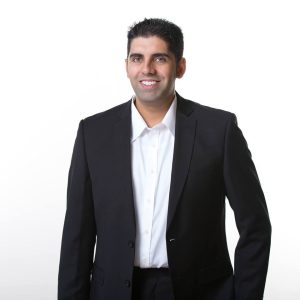 -Jesse Singh
P.S.  If you are tired of failing ANY business, click here and check this out to take your game to the next level.