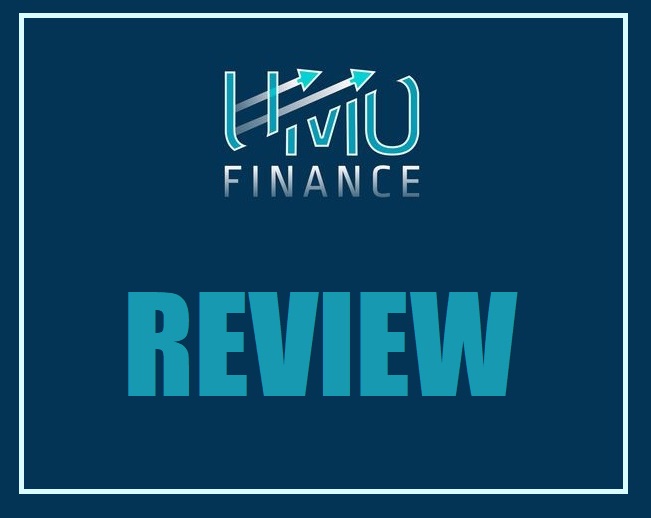 Umo Finance Review – (2020) Legit Investment MLM or Scam?
Welcome to my third party Umo Finance Review!
There has been some buzz about this company so I decided to check it out.
Chances are someone approached you about their business opportunity and you landed here to make sure it's legit.
The good news is I am going to walk you through the company, products and compensation plan so you can make the right decision.
Just pay CLOSE attention and read this to the end…
Umo Finance MLM Company

Umo Finance com is run by a man named Nicklas Larsen and his team member Steven Fletcher who is a Financial analyst and main trader.

Nicklas Larsen doesn't have much information about him on the internet.
He just has a LinkedIn profile that says he started UMO Finance in 2009.
Steven Fletcher has NO digital accounts at all…
No social media, no thing…
This my friends seems to be a mystery man…
What is Umo Finance?
According to Umo Finance:
UMO-Finance company entered the stock market in 2009. It was established by skilled traders team. Education in world recognized universities as well as personal security trading experience will allow to develop onward strategies and concept to ensure stable profit path for proprietary trading company.

Our company experts earn successfully on world most popular stock platforms.

We provide our traders with best conditions to do trades including well-functioning infrastructure. Our capital ensures operations with major financial funds for lots of traders simultaneously. We offer our investors mutually beneficial cooperation based on clear agreements. Company experts are ready to raise your profit using correctly applied and time-proved strategies. We are dedicated to short and long-term perspective.
Then I looked at the domain registration information on "umo-finance.com" and found out it was registered on August 15th, 2019 and expires on August 15th, 2028.
So…
The question is how did they exist in 2009 when they didn't even register the domain until 2019?
Not only that when you look at their Certificate of Incorporation in the UK for UMO FINANCE LIMITED, it was done on the 13th of November 2019.[1]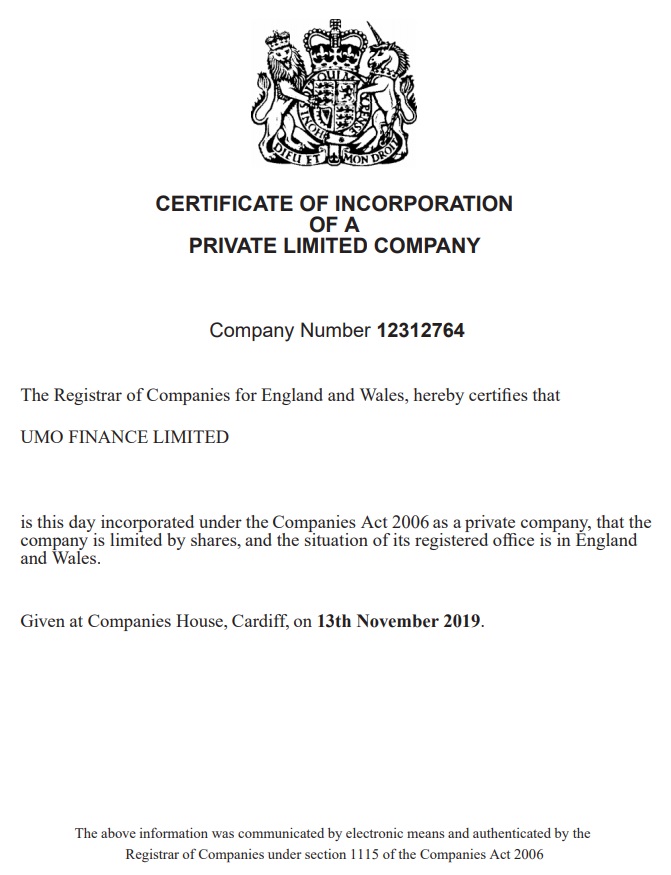 If a network marketing company isn't transparent about who is running or owns it, you should think twice before putting your hard earned money into it.
Anyway, let's look at the products next inside of this Umo Finance review…
Read:  LiveGood
Umo Finance Products
Umo Finance doesn't have any retail products or services, but you can become an affiliate and promote their affiliate membership
Bundled with that is you can invest in the company and start making a passive return.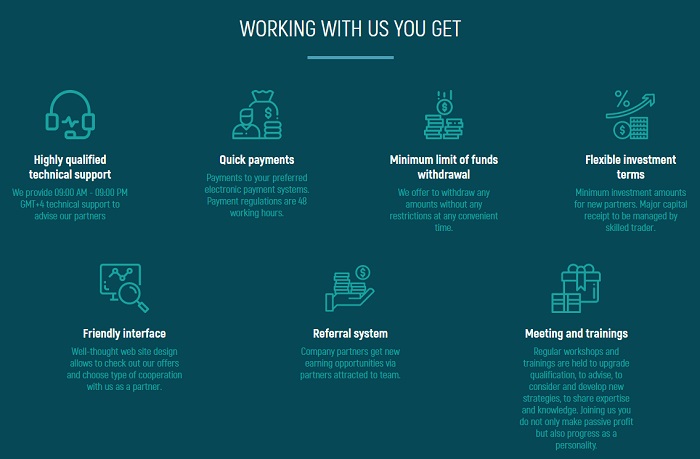 Umo Finance Compensation Plan
Umo Finance has affiliates invest $50 or more on a promise they will get an advertised ROI.
Investment Plan
Below is the return on investment you can get:
1.4% – 2.8% for 16 – 46 Working days (Principal Return)
2.7% – 3.1% for 75 Working days (Principal included)
1.9% – 3.2% for 190-260 Working days (Paid Only in the end of term).
Referral Commissions
You can earn a percentage on your downlines investments through a unilevel compensation plan structure.
A unilevel compensation plan puts the affiliate at the top of a unilevel team structure, with every personally sponsored affiliate placed directly under them (level 1):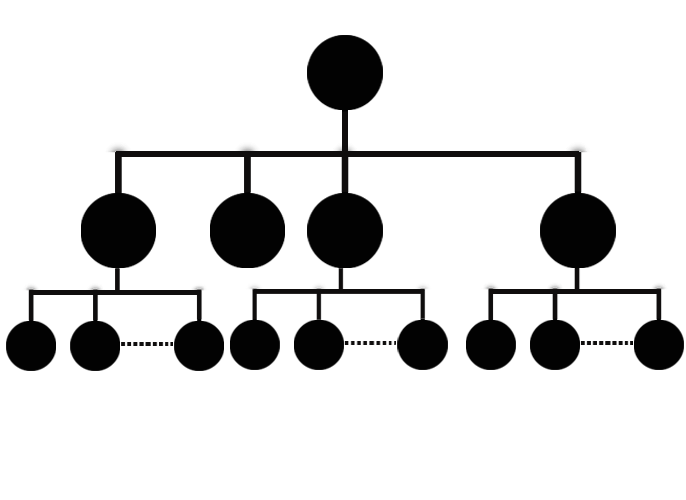 If any level 1 affiliates sponsor a new affiliate, they are put on level 2 of the original affiliate's unilevel team.
If any level 2 affiliates sponsor a new affiliates, they are put on level 3 and so on and so forth…
Umo Finance pays their affiliates through a four level unilevel compensation plan structure.
Level 1 (personally sponsored affiliates) – 4%
Level 2 and 3 – 2%
Level 4 – 1%
Now depending on the turn over you can get paid deeper: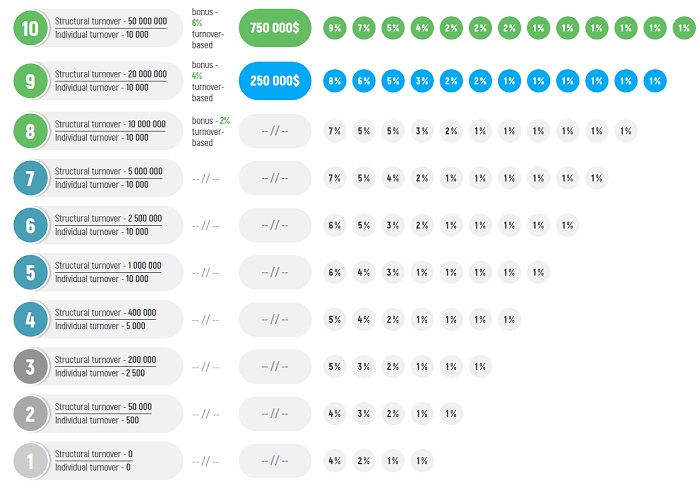 Cost To Join
The affiliate membership appears to be free, however, if you want to be part of the investment opportunity you must drop at least $50.
Now unlike all the other Umo Finance reviews out there I am going to keep it real with you…
Umo Finance Limited Review

Pay close attention to the verdict…
Final Verdict
So does the Umo Finance scam exist?
Let's take a look at a few things…
The ownership have barely a digital footprint and couldn't find any real information on them…
It's 2020 now and nothing on social media?
Second they have no retail products or services which means the FTC would consider this a pyramid scheme.[2]
Third because they are offering passive returns, they must be registered with the FCA in the UK for securities.
If you go on the FCA site and type in Umo Finance Limited or Umo Finance, there is no registration.[3]
I even tried the SEC and nothing was there either…
So they are offering passive returns illegally…
Because of checking all the red flag boxes above, I can't recommend this company at all…
If you want to learn how to build a real business online regardless of joining a company or not…
We will pair you with a REAL one on one coach to help you get started the right way.
This way you don't have to worry about joining a scam.
You can build ANY business online with the skills you will learn.
I hope you enjoyed my Umo Finance review and if you have any questions, feel free to ask in the comments below…
Follow me on Social media below:
Subscribe To My YouTube Channel Here.
See you at the top,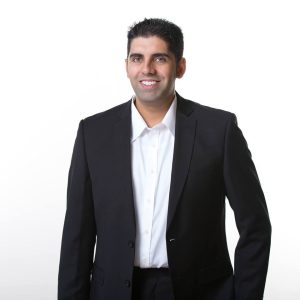 -Jesse Singh
P.S.  If you are tired of failing ANY business, click here and check this out to take your game to the next level.